This article was written in conjunction with Tresillian. Tresillian's mission is to engage, educate and support families in Australia by increasing parenting confidence, leading to improved health and wellbeing of families with young children, and secure, resilient family relationships. For more information from Tresillian on baby sleep and settling please click here.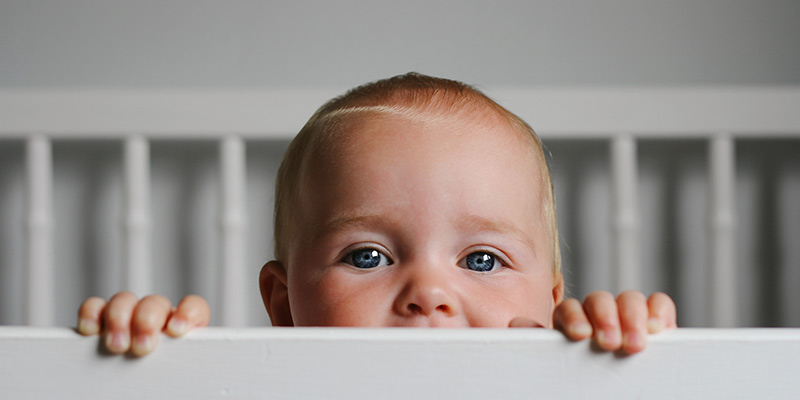 Every new parent understands that when a new baby comes along, there's probably going to be lots of sleepless nights at first. But as the months tick by and so do the milestones, and parents' group friends begin to report that their babies are sleeping right through the night while your baby isn't, you might begin to worry. What are you supposed to do when baby is still waking up during the night after eight months, and even longer? And does it mean that something's wrong?
The short answer – and the good news – is that this is absolutely normal, and there are definitely things you can do. According to Tresillian, who provide expert advice to thousands of tired parents of babies and young children each year, it's all about understanding what's going on, adjusting your expectations accordingly, and having a few simple techniques you can use.
---
Baby's sleep and development
Your baby's sleep is a developmental process that occurs over the first 12 months of life, just like their ability to walk and talk, says Fran Chavasse, Senior Nurse Educator. It's controlled by your baby's brain so neither you nor your baby can hurry it up too much; but you can help your baby by understanding how their sleep development occurs.
During the first 12 months most babies average 12 to 14 hours sleep over a 24-hour period. So, the amount of sleep stays the same, but as the year progresses more of your baby's sleep will occur at night and less in the day.
Remember, though, that sleep development is a process, and every baby is different. Your baby has individual sleep needs just like you, so it's good to learn how much sleep your baby needs.
---
Baby sleep times at 8 months and up

By 6-8 months your baby's cycle is starting to change. Generally your baby will be more active during the day and may drop to two daytime sleeps as they stay awake for longer periods.
At 8 months and up, most babies are having two daytime sleeps morning and afternoon. If your baby becomes tired late in the afternoon, you may need to add a third short sleep.
Your baby may still be night waking or even start to wake at night: this can be due to separation anxiety which is quite normal for this age. If this happens, reassure your child and try to resettle with minimal fuss – see below.
---
What to do
When you're not getting enough sleep, things can feel a little overwhelming, and like you have no control over the situation. But a little information and know-how can make all the difference.
Understand why babies cry
It might seem simplistic, but it can help for you to remember that most of the time babies cry for all kinds of things that aren't necessarily serious – even when they're crying like their life's at stake! It could be hunger or having a dirty or wet nappy; they are lying in an uncomfortable position or have a pain in their stomach; or they simply want comfort from the people they love most.  It may also be over-tiredness when baby's "tired signs" have gone unnoticed and they become upset and distressed.
Recognise when baby needs sleep
The best defence is an early offence. First and foremost, this means making sure the rest of your baby's day is organised around their sleep patterns – this includes feeding and socialising.
It also means learning to recognise your baby's "tired signs" so that you can act quickly. Signs that your baby is getting tired and needs sleep include grimacing, yawning, grizzling, frowning, sucking, staring, snuggling in, jerky movements, becoming overactive, clenching fists, rubbing eyes, fussiness or crying. Responding early to these tired signs prevents your baby becoming distressed and makes it easier to get baby to sleep.
How to settle your baby
Because sleep is a developmental process, babies don't "learn" to sleep. They do, however, need an opportunity to discover their own way of going to sleep. For babies over six months of age, Comfort Settling helps them do this while providing reassurance and support.
---
Comfort Settling a baby aged over 6 months (Steps 1-3)
Talk quietly and cuddle your baby to help baby calm
Put your baby on their back in the cot awake (calm/drowsy). Comfort your baby with gentle 'ssshhh' sounds, gentle rhythmic patting, rocking, or stroking
As your baby calms or falls asleep, move away from the cot or leave the room. If your baby starts to become distressed, return and comfort your baby using step 2 before moving away or leaving the room again. Some babies may need you to stay in the room until they are asleep
When baby won't settle to sleep
You may have to repeat the steps above several times before your baby is able to settle to sleep
If your baby still does not settle, pick your baby up and cuddle until calm. Then either try steps 1-3 or get baby up and try again later
As your baby learns to settle, it will take less time to calm your baby
---
Parental Presence (for babies over 6 months)
If your baby has never been separated from you at sleep time you may prefer this option.
Talk quietly and cuddle your baby to help baby calm
Put your baby on their back in the cot awake (calm/drowsy). Comfort your baby with gentle 'ssshhh' sounds, gentle rhythmic patting, rocking, or stroking
Once your baby is calm, lie down or sit beside the cot within sight of your baby and pretend to be asleep
If your baby remains awake, give a little cough or quietly say 'ssshh time to sleep' so your baby knows you are still in the room
If your child becomes distressed do the least amount to calm your child (start with step 3 but you may need to start with steps 1-3 again) then lie or sit beside the cot
You may have to repeat this several times before your child is able to remain calm and become drowsy or fall asleep
Stay in the room until your child is asleep during the day and sleep in the same room as your child during the night
Continue this for at least 1 week or until your child has 3 nights in a row of relatively uninterrupted sleep
You can now begin to leave the room before your child is asleep
Other techniques to soothe your baby
A cuddle or holding your baby close (this may include skin-to-skin contact)
Rhythmical movement or walking
Using a pram or sling
Soft music
A dummy
A warm bath and/or baby massage
Unfortunately, some days your baby will find it very difficult to settle.  No matter what you try, it does not work.  If you start to feel tired, frustrated, upset or anxious, it's very likely that your baby will also remain upset and unsettled.  
When you need extra help
The Medibank Baby Sleep Support line∓, delivered by Tresillian's specialist child and family health nurses, is an at-home service available seven days a week to provide you with practical advice and evidence-based strategies to help you settle your baby or toddler. Nurses will address your immediate concerns and offer practical advice. And if you need more support, we can then offer you an individualised, comprehensive sleep and settling plan with follow-up telehealth coaching calls.
If you feel like the situation is affecting your emotional or mental health, you can always contact our 24/7 Mental Health Phone Support~ or 24/7 Medibank Phone Nurse Service~, who is also there for any other health concerns.
---
Need a little extra support?
Sleep and settling
Our sleep and settling support line, delivered by Tresillian's specialist nurses, is here to help eligible members with hospital cover, at no extra cost on 1800 973 573.∓
Medibank Mental Health Phone Support
Members with Hospital cover can talk with a mental health professional over the phone in relation to any mental health or emotional concern, 24 hours a day 7 days a week by calling 1800 644 325.~
Health Concierge
Eligible members with hospital cover can now talk to a member of our Health Concierge team for advice on how to have a healthy pregnancy, at no extra cost on 1800 789 414.#
Looking for something else?
Visit Medibank Planning, Pregnancy and Parenting for a range of tools and advice to help you at every stage of your pregnancy journey.
---
Help the way you want it
Contact us 
Call us on 134 190 to speak to a consultant. Alternatively, chat to us 24/7 online.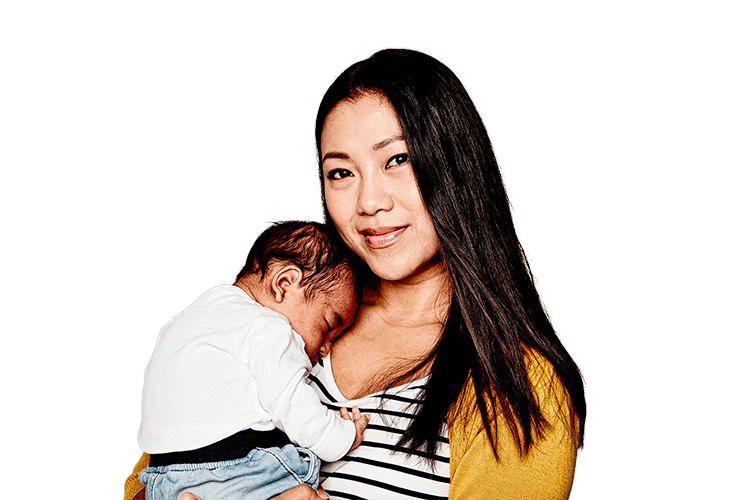 Have questions?
Our team of experts are ready to help!
Enter your postcode to find your nearest store to have a face-to-face chat!
.
Fill in the form below or get in touch by calling our dedicated line 1300 110 086.
We are open on Sundays.
In providing your telephone number, you consent to Medibank contacting you about health insurance.
We'll have someone call you soon to help with any questions you have.
Or, check out our FAQs and guides to help get you started.