Why choose Medibank Pet Insurance?
Up to 80% back
Receive up to 80% back on eligible vet bills based on your level of cover.¹
Lifetime renewal
If there are no breaks in cover, cover can be renewed for the life of your pet regardless of their age & claims history.²
Generous annual limits
Benefit limits from $4,000 – $15,000 based on your level of cover.
Multiple pets discount
5% off for any additional pets covered.
This is a brief summary only - for full terms and conditions, limitations and exclusions, please read the Product Disclosure Statement (PDS) for full details.
Select a cover that suits you
Medibank Pet Insurance offers three levels of cover for your pet's medical expenses, including the industry-first Emergency Pet Care.  We provide cover for cats and dogs and once they're insured, your pet can be covered for life.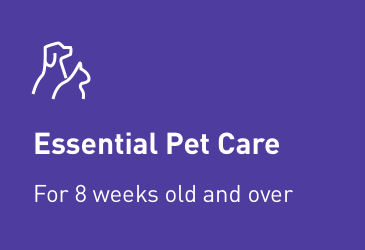 Essential Pet Care
Great value cover for accidents and illness.
Key features
Accident and Illness Cover
$4,000 annual benefit limit
70% back on eligible bills
$0 or $100 excess options
From 8 weeks old with no upper age limit
Read the PDS for full product terms.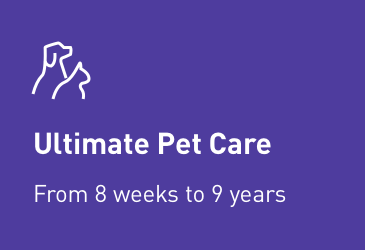 Ultimate Pet Care
Top comprehensive cover with optional routine and preventative care.
Key features
Accident and Illness Cover
$15,000 annual benefit limit
80% back on eligible bills
$0, $100 or $200 excess options
From 8 weeks until 9 years old (at the time of application)
Read the PDS for full product terms.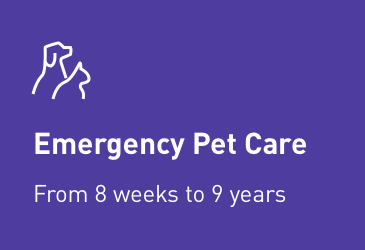 Emergency Pet Care
Cover for high value vet bills on accidental injuries and specified illnesses.
Key features
Accident and Specified Illnesses only
$8,000 annual benefit imit
80% back on eligible bills
$0, $100 or $200 excess options
From 8 weeks until 9 years old (at the time of application)
Read the PDS for full product terms.
Please note: Waiting periods apply. Pre-existing conditions are not covered (including conditions that develop during the waiting period). You can apply to have a pre-existing condition reviewed after 18 months of continuous membership. Please see the Product Disclosure Statement (PDS) for terms, conditions and any exclusions. Product features effective 7 December 2016, for polices sold before this date (Bronze, Silver and Gold Paw) please contact 1300 766 085 for a copy of the PDS.
Want to compare our cover options?
With three different cover options, you'll find one to suit your fur-family's needs. Our comparison table outlines the key differences between our plans, so you can choose a cat insurance policy that suits their age and lifestyle.
Finding the right cover for your pet
Have peace of mind knowing your pet will be looked after should the unexpected happen.  We have three plan options to cover the following so contact us to help you find the right cover for your pet.
Accidental injury
Injuries resulting from events like car accidents and snake bites.
lllness
Illnesses including arthritis and a range of chronic diseases.
Optional routine & preventative care
Vet treatments such as vaccinations, de-sexing and micro-chipping.
Cancer treatment
Common cat and dog cancers like lymphoma and squamous cell carcinoma.
At Medibank we understand how much you love your pet
Medibank Pet Insurance allows you to keep your best friend healthy, and make the decisions that will save their life.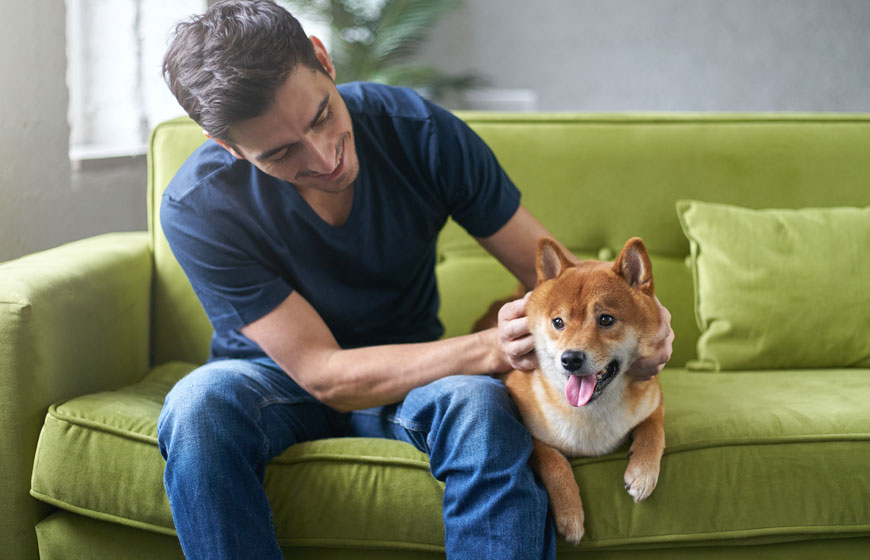 Taking care of your pet's health
We've worked with pet experts to provide the best advice for looking after your best friend.
We've got your questions covered

New policies
Your premium is calculated using a combination of factors about you and your pet. These factors can affect the premium amount up or down depending upon whether we believe it increases or decreases the risk to us, such as the cover you have chosen, the excess selected, the benefit percentage applicable to the cover you have chosen, where you and your pet permanently live, your age and the species, breed, gender of your pet, the current age of your pet, the age you first insured your pet, and other factors related to our cost of doing business.
Renewing policies
Factors that are taken into consideration for renewal premium calculation include your pet's age, breed, location, duration for which your pet has been insured, claims history, as well as data relating to the health of pets that are a similar age and breed. Each year we review premiums based on these factors to ensure we can accommodate the costs of possible treatment up to your annual benefit limit, in the event that your pet becomes injured or ill.
Will my premium increase every year?
Yes, your premium will increase each year. This is for two main reasons:
Reason #1: Just like humans, the older our pets get, the more likely they are to have health hiccups. Cats and dogs age faster than we do, which means that their likely veterinary treatment costs go up rapidly each year too. As a result, the cost of insuring your pet will also increase as they get older.
Reason #2: Advancements in Veterinary Treatments.
The overall cost of medical treatment for pets has increased in recent years due to the increased availability of medical treatments and technology-enabled services and ongoing demand for these services. The treatment options and advancements in technology are providing us with great opportunities to give our pets a great quality of life for longer.
While this is great news for the care of our pets, these treatments come at a significant cost. Year on year treatment costs increase, and this is factored into the cost of pet insurance.
Please see 'How do you calculate my premium' for more information about calculation of premiums.
Will my premium increase even if I don't submit claims?         
Every year, we review the cost of everyone's insurance with regards to a combination of factors as well as claims inflation across all our insured pets. Increases in our claims costs due to increases in the range of available veterinary procedures, or due to an increased take-up of those services, impacts everyone's premiums.
Your premium takes into account the average cost of care for pets like yours. To provide an example of this, a pet parent with a three-year-old French Bulldog will be affected by the trends we see in our data from hundreds of three-year-old French Bulldogs that we insure, as well as the specific claims history of their own pet.
Is my premium calculated the same way as my Private Health Insurance?
No. Pet insurance does not work like health insurance. Health insurance is 'community rated', which means that everyone pays the same premium for their health insurance regardless of their individual health status, age or claims history. This is not the case for pet insurance.
Health insurance providers are able to community rate health insurance because there are many other factors at play in the human health care system, such as Medicare and government rebates and subsidies, which is not the case with veterinary care and pet insurance.
Pet insurance claim reimbursements are paid for purely by the premiums received by those who insure their pets. In order for each person to pay a fair price for their pet insurance, premiums vary depending on your and your pet's risk factors.
Medibank Pet Insurance is general insurance issued by the insurer The Hollard Insurance Company Pty Ltd (ACN 090 584 473; AFSL 241436) (Hollard), is promoted by Medibank Private Limited (ACN 080 890 259; AR 286089) (Medibank) and administered by PetSure (Australia) Pty Ltd (ACN 075 949 923; AFSL 420183) (PetSure).
This policy is issued for a fixed contract term (12 months in the case of Medibank Pet Insurance). Prior to the expiry of each contract term, you will receive a renewal notice, in which a new offer of insurance is made for the next policy period. You can renew the policy for the life of your pet as long as you continuously maintain your policy and pay the premiums when they are due.
Yes, you may cancel your policy by notifying the administrator of Medibank Pet Insurance, PetSure (Australia) Pty Ltd ("PetSure"). You can do this by telephone, email or post.  
Cancelling during the "cooling off" period
You have an obligation free 21 days from the policy Commencement Date (or any renewal date) to make sure you are happy with every aspect of your Medibank Pet Insurance policy. This is known as the "cooling off" period. During this time you may cancel the policy (if you have not made a claim)
simply by contacting to us. If we receive your request to cancel your policy within the 21 day period after the policy Commencement Date (or any renewal date), we will give you a refund of any monies received since commencement or renewal, less any transaction costs incurred by us which we are unable to recover and any taxes or duties that we are unable to refund.
If you have not made a claim
If you have not made a claim under the policy and you have paid the annual premium in full, the portion of the premium that reflects the remainder of the policy period will be refunded to you. No refund is available where you have chosen the monthly or fortnightly payment options.
For example:  If you decide to cancel at the beginning of March, but you pay your premiums monthly, no portion of the March monthly premium is refunded. 
If you have made a claim
If you have made a claim under the policy, and you have chosen to pay premiums annually, no refund is provided if you cancel your policy. Where you have chosen to pay monthly or fortnightly, any remaining premium still has to be paid for the remainder of the policy period.  
For example: If your renewal date was March, you decide to cancel in August, you need to pay premiums until the following March before the policy is cancelled.
The policy period is the time during which we provide cover as specified on your Certificate of Insurance.  This is generally a 12-month period from each renewal date.
Like most insurance policies, there are some exclusions and benefit limits to help keep your premiums affordable.
These include behavioural problems, food and diets, pregnancy, elective procedures, grooming and pre-existing conditions that showed clinical signs before you took out Medibank Pet Insurance.
You should carefully read the Product Disclosure Statement (PDS) for a comprehensive list and full explanation of policy exclusions.
You can claim online via the PetPortal. Visit now to login or register.
You are required to submit your claim within 90 days of your pet receiving treatment. The vet must complete a small section of the claim form and sign it, so it's a good idea to take a printed claim form with you when you visit your vet.
It's important to note if you're lodging your first claim, you'll need to attach a complete veterinary history from both current and previous veterinary clinics. If you've provided this information previously, there's no need for you to submit it again.
Once PetSure (our administrator) receives the documentation they need, your claim will be processed without delay and payment will be made to the policyholder by cheque or directly into a nominated account.
Aside from your first claim, in many cases your claim can be processed directly without veterinary records being required. However, in some cases veterinary records may be requested to assist in understanding some aspect of your claim to ensure it is processed correctly and fairly. Sometimes this can result in a delay in payment of claims.
* Offer ends 11.59pm AEST on 30 June 2020. Offer provides customers with their first month free when they sign up to Medibank Pet Insurance. Offer only applies to new policies purchased using the promo code FREEMONTH. Eligibility criteria applies for Medibank Pet Insurance. 
Have questions?
Our team of experts are ready to help!
Enter your postcode to find your nearest store to have a face-to-face chat!
.
Fill in the form below or get in touch by calling our dedicated line 1300 110 086.
We are open on Sundays.
In providing your telephone number, you consent to Medibank contacting you about health insurance.
We'll have someone call you soon to help with any questions you have.
Or, check out our FAQs and guides to help get you started.