Having a baby is a joyful time. There is a lot to get excited about, but there's also a lot to plan for and consider, including the financial implications of bringing a little person into the world. Understanding the costs of having a baby in a private hospital isn't always easy and it's important to know what to expect.
Your hospital costs usually fall into one of two categories when having a baby: 
Services you receive when you are admitted (known as in-hospital and medical treatment)
Services you receive as an out-patient after the baby is born (known as out of hospital medical services or extras treatment) 
If your cover includes Pregnancy and Birth§, and you've served your waiting period, Medibank will pay benefits towards your care in a private hospital.
Once you've got your head around potential costs of having a baby, it's a good idea to think about the following: 
Ask for Informed Financial Consent
Informed Financial Consent is a way for you to find out exactly how much your in-hospital treatment will cost, so that you can agree to it before it happens. Before you are admitted to hospital, your doctor or obstetrician should provide a breakdown of all out-of pocket costs you are likely to incur during the hospital admission. Make sure that you obtain an Informed Financial Consent and agree to it before you finalise your choice of hospital and obstetrician.
How to reduce your out-of-pocket expenses for pregnancy
To help reduce out-of-pocket expenses for our hospital members, Medibank has entered into agreements with a number of private hospitals across Australia as part of our Members' Choice network. This means that by visiting a Members' Choice hospital you'll generally get better value for money compared to a non-Members' Choice private Hospital*.
It's important to be aware that Medibank's agreements with Members' Choice hospitals are subject to change. If you are unsure of whether a hospital is participating in our Members Choice program, call our team on 132 331 to speak to an advisor.
You can search for a Member's Choice hospital here.
Ask about our GapCover Scheme
Our GapCover Scheme has been designed to minimise your out-of-pocket expenses. When you go to hospital, there is usually an extra amount between the fee your doctor charges you and the total benefits you receive from Medicare and us. The GapCover scheme can help close this gap amount. To find out more please call us on 132 331 or search for a GapCover Scheme hospital here.
It's important to be aware that it is up to the provider whether they want to participate in GapCover and their decision can be made on a case-by-case basis. Please contact the provider to discuss this prior to seeking treatment.
Ensure your newborn is covered for in-hospital treatment

Generally, a healthy newborn is not admitted to hospital as an inpatient. Because the baby is not an in-patient, it's important to be aware that any treatment, tests or doctor's visits (e.g. a pre-release check-up by a paediatrician) are outpatient services, for which Medibank cannot pay any of these benefits. This means you will only be eligible to claim a Medicare rebate for those services and may incur out-of-pocket expenses.
In some cases, a newborn may need to be admitted to hospital in their own right, e.g. they might require treatment in a special care nursery or an intensive care unit. To ensure the costs associated with the baby's admission are included under your cover, we recommend you add your baby to your membership within two months of their date of birth. 
Call us on 132 331 to add your baby to your cover.
Out-of-hospital costs and extras treatment
Out-of-hospital or extras treatments are services you receive as an out-patient. All private health insurance funds, including Medibank, are not permitted to pay out-of-hospital medical services when a Medicare rebate applies. 
Medibank's Growing Family packages contain a range of extras services to support you during pregnancy, birth and beyond. Click here to find out more.
All services listed below are subject to annual and other limits – please check your Cover Summary in My Medibank for details.
---
Need a little extra support?
Health Concierge
Whether it's taking you a little longer to fall pregnant than you expected, or you know you'll be needing a bit of extra help, Medibank's Health Concierge service is there to help. You can call 1800 789 414 for support and guidance, available at no extra cost for members with residential hospital cover#. 

Got a health question? 24/7 Medibank nurse phone service
Members with hospital cover can chat to experienced and qualified nurses over the phone to discuss any health questions or concerns and get professional advice on what to do next. Our nurses are available on 1800 644 325~ for round-the-clock health advice.
Optimal me
Medibank has partnered with Monash University to create OptimalMe, a research program designed to help mums-to-be optimise their health before they conceive. The program features tailored health and wellbeing tips and personal guidance on fitness and nutrition. 
If you're planning to have a baby in the next 12 months you may be eligible to take part.  Find out more here

Looking for something else?
Visit Medibank Planning, Pregnancy and Parenting for a range of tools and advice to help you at every stage of your pregnancy journey.
---
Help the way you want it
Contact us 
Call us on 134 190 to speak to a consultant. Alternatively, chat to us 24/7 online.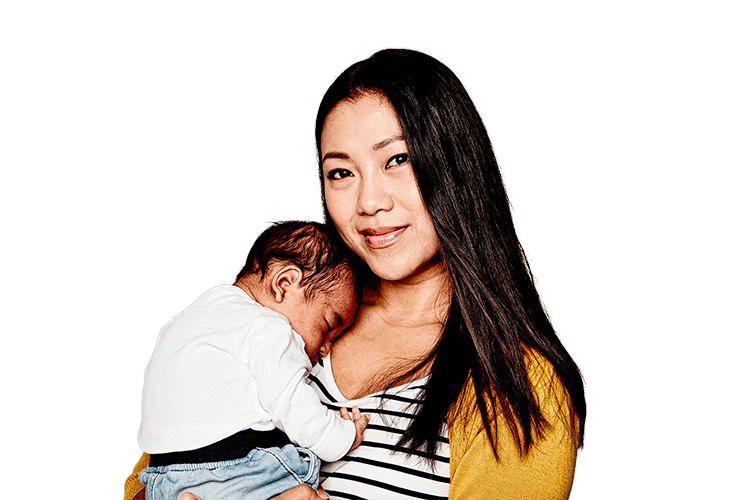 Have questions?
Our team of experts are ready to help!
Enter your postcode to find your nearest store to have a face-to-face chat!
.
Fill in the form below or get in touch by calling our dedicated line 1300 110 086.
We are open on Sundays.
In providing your telephone number, you consent to Medibank contacting you about health insurance.
We'll have someone call you soon to help with any questions you have.
Or, check out our FAQs and guides to help get you started.