Discussing your child's upcoming hospital stay with them may seem daunting, but by explaining what will happen in a way that they can understand, you can help them feel ready and ease their nerves.
Here are some tips for talking to your child before they go to hospital.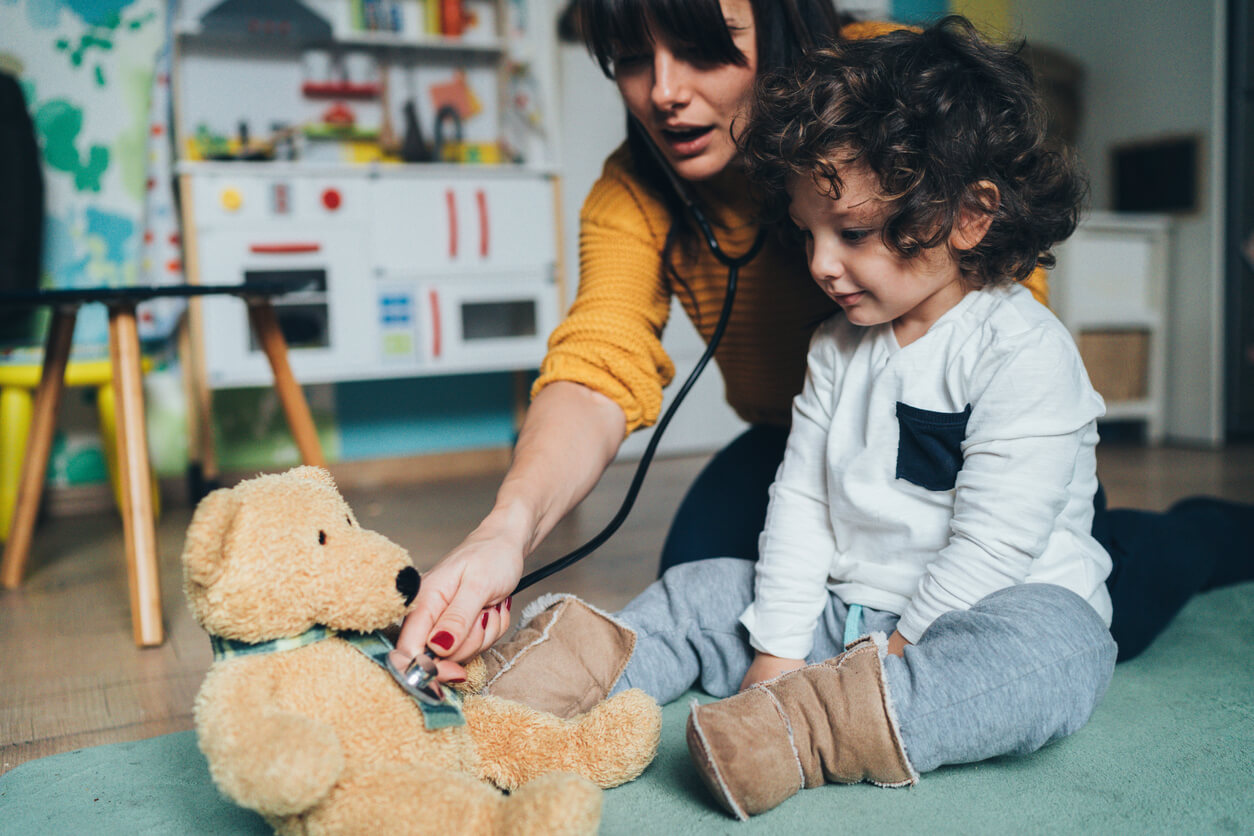 When to break the news
Don't surprise your child with a hospital visit—they'll need time to ask questions and feel ready. When to tell your child will depend on their age and maturity. As a general rule, children will need more time to process the information and ask questions as they get older. For younger children (i.e. under 6), a couple of days before they go to hospital is ideal. If your child is 6 or older, aim to tell them a week or two ahead of their procedure.
Help your child feel prepared
If your child is young, you can incorporate hospital themes into play time. For example, you could practice caring for their favourite soft animal toys together. You can also find picture books and stories about going to hospital to read together.
Some hospitals offer tours to help children get familiar with the ward—or you may be able to take a virtual tour on the hospital's website. You can ring the hospital to see what services they offer to help children feel comfortable before their procedure. If your child is especially anxious, your GP or a psychologist can help. The hospital may also have a "child life therapist" who can help your child feel more prepared and less anxious about going to hospital through guided play.
Older children or teens may be anxious about missing their friends or school, so it can be worth brainstorming ideas to help them stay connected. You could set up an online chat group with their friends on a messaging app that they all use. If they are concerned about getting behind at school, you could ask teachers to email you schoolwork to help them stay on track.
Be open and honest
Explain why they need the procedure and what they can expect. Answer their questions honestly. If they ask something that you can't answer, be upfront but make a plan to try to find out together—you can write it down to ask your doctor or research together. Older children may want more details about what things will look like, feel like, sound like etc. It may be useful to explain how their body will respond and adapt to the procedure, so they can get a better sense of what, if any, impact there will be.

Use clear language
Explain what will happen as clearly and simply as you can. It's best not to tease or make jokes because children don't have as well-developed sense of humour as adults and might find it scary instead of funny. Try not to use phrases that may confuse or worry your child—for example when you're explaining the anaesthetic, it's better to say something like 'you'll fall asleep' rather than, 'they'll put you to sleep' or 'they'll give you gas.' Check in to make sure they understand what you've explained.
Manage your own anxiety
It's normal to feel a bit nervous, but try not to let it show. If you're calm and confident, your child is more likely to feel relaxed and reassured. If you're anxious, relaxation techniques or deep breathing can help—or you could try a mindfulness app such as Smiling Mind.
Read more about managing anxiety at Healthy Mind by Medibank.
Reassure
Reassure your child that you or a loved one will be there when they wake from the anaesthetic. Let them know it's ok to feel nervous or afraid, but the doctors and nurses will be there to look after them.
Involve siblings
Siblings may also need reassurance. It can be helpful to book in a little extra one-on-one time and letting them know what they can expect. They can also help support their brother or sister by creating art for the hospital room or choosing a small gift or toy to bring them.
Looking for something else?
Visit our Hospital Assist homepage for a range of tools and advice to help you at every stage of your hospital journey.
Have questions?
Our team of experts are ready to help!
Enter your postcode to find your nearest store to have a face-to-face chat!
.
Fill in the form below or get in touch by calling our dedicated line 1300 110 086.
We are open on Sundays.
In providing your telephone number, you consent to Medibank contacting you about health insurance.
We'll have someone call you soon to help with any questions you have.
Or, check out our FAQs and guides to help get you started.