Written by Kim Thomson
August 2023
While many may feel hesitant about sharing their experiences in a group setting, peer support programs can provide much-needed help for those who have gone through – or are going through – a tough situation.

We spoke to a peer support practitioner about how these programs work and what to expect.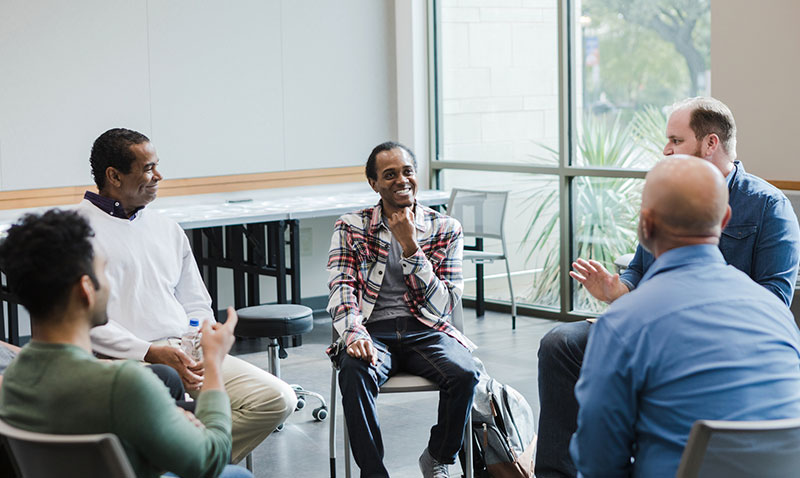 What is peer support?
While group therapy is facilitated by a professional therapist, peer support programs are run by people with lived experience of the issue at hand.
Bianca Childs, lived experience workforce manager and coordinator of centre of excellence in peer support at Mind Australia, oversees a workforce of 150 peer support workers.  

"Peer support is a group of people coming together who have a similar lived experience," she says.

"At Mind, that's a lived experience of mental health and recovery; in chronic health, it could be a diagnosis of Multiple Sclerosis; it could be people who have been involved in a traffic accident and been physically impacted; it could be a group of bereaved people."
Peer support workers at Mind provide direct, one-to-one peer support as well as run groups.
Childs says there's been a recent growth in lived experience and peer support roles across Australia. 
"That's happening outside of mental health as well; for example, in the police force, for first responders, in corporate areas, and in education," she says.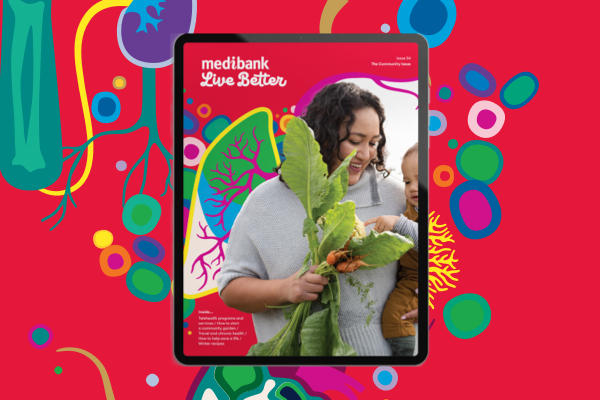 Like what you're reading?
The community issue of Live Better magazine is here. From kids' sports to group therapy, read about the wonderful communities that connect us. 
What to expect in a peer support group
Childs says a key benefit of peer support is a sense of "mutuality".
"There's no hierarchy … as opposed to a power dynamic between a psychiatrist and a patient — where one person is deemed the expert, and one person is deemed the person receiving the support," she says.
"Often there's no leader, there might just be a person who's bringing people together, who is part of that group as well."
Childs says groups are structured in a variety of ways — and it's often up to the group to develop ground rules.
"Most of the time groups set up some kind of group agreement or discomfort agreement around what is acceptable within the group and what is safe and what we don't want in the group — and it's best when the group leads that."
If you feel hesitant to open up in front of a group, you might not have to.
"You might not have to share — you might go to a couple of the sessions or a couple of groups and just listen for a while," says Childs.
Some people attend a group just a few times; others end up going for years.
Crucially, Childs says, peer support is a 2-way exchange of learning, which is beneficial for both parties.
"As a person with lived experience, I receive benefit from connecting with other people with lived experience, and learn from them," she says.
"By providing peer support, you role model things like appropriate disclosure, as well as role model that hope is possible."
Is peer support right for you?
Childs adds that, if you feel daunted about attending, speak to the group organisers first.
"Contacting the group and talking beforehand can help you get an idea of what the group is like because there are lots of different ways groups are set up.
"Talking to somebody beforehand, who is either a member of the group or a facilitator, can help have some of your questions answered."  
24/7 Mental Health Phone Support
Members with Hospital cover can talk with a mental health professional over the phone in relation to any mental health or emotional concern, 24 hours a day 7 days a week on 1800 644 325~.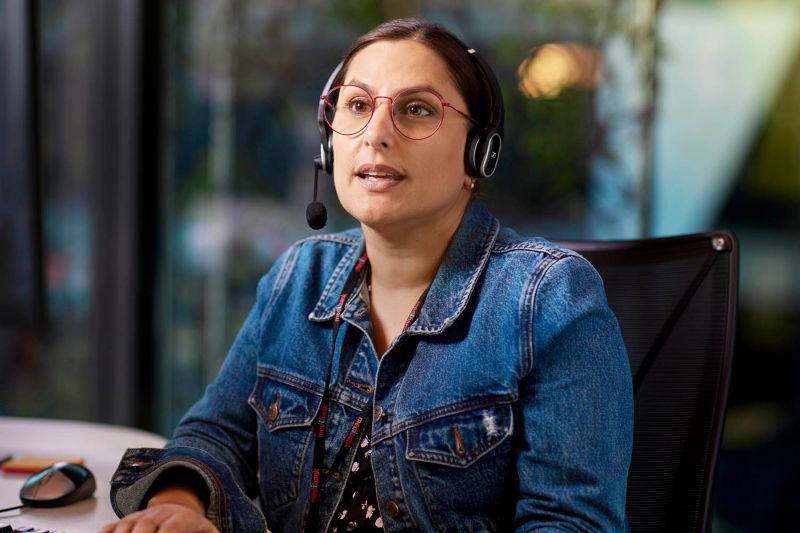 Is your child drinking too much?

Young adults tend to be more at risk of binge drinking. Here's how to tell if it's a problem, and what to do about it.

Mental health and dating

Starting a relationship is exciting, but it's hard to know how – and when – to tell your new boyfriend or girlfriend about your mental health issues.

What are the different types of anxiety?

Anxiety can present itself in numerous different forms. Learn the difference and where you can go for help.

What is hangxiety and how do I get rid of it?

If you've experienced anxiety while nursing a hangover after a night out drinking, there's term for that - hangxiety. Here are some tips on how to prevent and stop hangxiety.

Should I tell my boss about my mental health issue?

Whether or not to tell your boss you have a mental health issue like depression or anxiety is a personal question. Here are some important things to consider.

Is your adult child is experiencing a mental health issue?

Whether your child is graduating high school, going to university or entering full time employment they may well be faced with a whole new raft of challenges.

Supporting mental health through early childhood

Promoting good mental health is key to your child's development through their primary school years. Here's how can you make sure they're getting what they need and how to spot the signs that they might be struggling.

Looking after yourself when supporting someone

When you're constantly worried about the mental health of a loved one, it can be easy to forget about your own wellbeing. Here are some ways to support yourself.

Understanding the costs of mental health treatment

How much does a psychologist cost? How much can I claim from Medibank? Can you get free mental health support? Find out what to expect for mental health treatment costs.

Finding the right mental health professional for you

What's the difference between a psychologist and a counsellor? How do you find the right psychologist for you? Our guide to mental health professionals will give you the confidence to take the first step.

How to support a colleague with depression

Learn what to say and how to be supportive when a workmate is going through a hard time.

Depression vs sadness

Depression and sadness have some things in common, but they're quite different. Here's how to tell the difference between the two.

What to expect when you see a psychologist

Seeking help for mental health issues can be nerve-wracking – but don't let that hold you back.

Where to seek help for mental health issues

Here's a basic guide on the help and services available if you or a loved one need mental health support.

Can exercise prevent depression in children?

We have long known that exercise can improve the mental health of adults. Can children get the same benefits?

13 digital tools for your mental health and wellbeing

A guide to the online tools and apps, also known as e-therapy, that may help manage your mental health.

Learning to cope with intense feelings

Although it's hard, it's not impossible to step back, learn to have all your emotions, and choose your behaviour.

Caring for your child's mental health

Half of all mental health issues begin before a child turns 14. Here's what to look out for and things you can do to help.

When someone you care about won't get support

Tactics that will help you be there for someone who needs support, even if they don't want to admit it.

How does group therapy work?

Have you ever considered group therapy? Find out what to expect with support groups, when it's appropriate and how to find one.

Does winter make you depressed?

Winter depression is a real thing – it's known as seasonal affective disorder. Find out about symptoms and how to beat it.

Could you be stuck in a negative thought loop?

What happens when negative thoughts start to consume your day? Here's our guide to dealing with negative thoughts.

How to support your anxious child

Some kids find it much harder to manage stressful situations: here's how to support.

Do I worry too much, or is it anxiety?

Feeling anxious or worried is part of everyday life, so it's not always easy to know when it has turned into a mental health issue. Beyond Blue explains what's healthy when it comes to feeling anxious.

Anxiety and depression in older people

Learn to identify the signs and symptoms of anxiety and depression in older people.
---
Looking for something else?
Visit our Better Minds hub to find more tools and services.
Have questions?
Our team of experts are ready to help!
Enter your postcode to find your nearest store to have a face-to-face chat!
.
Fill in the form below or get in touch by calling our dedicated line 1300 110 086.
We are open on Sundays.
In providing your telephone number, you consent to Medibank contacting you about health insurance.
We'll have someone call you soon to help with any questions you have.
Or, check out our FAQs and guides to help get you started.