Reconsidering your Medibank membership?
If you're thinking of cancelling, speak to our friendly team of experts about your situation and we may be able to help out.
We are here for you with every aspect of our member services
Extended call centre hours
Every weekday 8am until 8pm and Saturdays 9am until 4pm. Plus we're also available to chat online to help you.
My Medibank app
The My Medibank app makes it easy to manage and use your cover. You can even book your dental appointment via the app.

100% back on dental twice a year
All Medibank members with extras cover can get 100% back on up to two dental check-ups every year at a Members' Choice Advantage dentist.¹ Plus these check-ups don't count towards your annual limit.
24/7 Medibank Nurse
Members with Hospital cover can call 1800 644 325 to speak to one of our Medibank nurses about your health concerns, anytime of the day or night.3
Cyber event updates and support
Get the latest updates on the cybercrime investigation and find out more about our cybercrime support package for affected customers.
false
How does the 'cooling off' period work?

If you join but then decide you'd like to either cancel your membership or move to another cover, we have what is known as a 'cooling-off' period. This also applies if you're already a member and have recently changed your cover. As long as you tell us within 30 days of joining or changing your cover, and no claims have been made against your policy there's no problem. We can either transfer you to a more suitable cover from the original commencement date or refund your premium in full. During the cooling off period, you cannot generally return to a cover that Medibank has closed.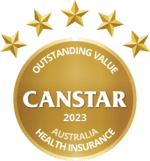 Canstar awarded 'Outstanding Value Health Insurance' 16 years in a row
We're proud to deliver outstanding value health insurance products designed to suit your needs. But don't just take our word for it.
Why should I stay with Medibank?
We want you to make the most of your cover, so did you know as a Medibank member you can:
And depending on what's included in your policy (check your cover summary to find out more), you may also be able to access the following:

Members with Extras cover 
100% back on up to two dental check-ups at a Members' Choice Advantage dentist every calendar year, including x-rays. 2 month waiting period applies.1
100% back on optical items like frames, prescription glasses, contacts and more at all recognised providers, up to your annual limits.2

Members with Hospital cover
24/7 Medibank Mental Health Phone Support – talk with a mental health professional over the phone in relation to any mental health or emotional concern, 24 hours a day 7 days a week.3
Hospital Assist – personalised phone support before and after a stay, digital info packs, access to the 24/7 Medibank Nurse phone service and our Procedure Cost Estimator.

Members with Hospital and Extras cover 
Unlimited emergency ambulance.4
Accidental Injury Benefit – you'll be eligible for Gold level hospital benefits if you have an Accident, regardless of your level of hospital cover.5

 
Things you should know
1 Limited to two dental check-ups on all extras annually. Maximum two bitewing x-rays per check-up, where clinically needed. Not available in all areas.
2 6-month waiting period applies. Some lens coatings excluded.
3 OSHC members should call the Student Health & Support Line on 1800 887 283.
4 Waiting periods apply. For ambulance attendance or transportation to a hospital where immediate medical attention is required and your condition is such that you couldn't be transported any other way. TAS and QLD have State schemes that provide ambulance services for residents of those States. 
5 For Accidents that occur in Australia after your cover starts. Must seek medical treatment within 7 days, and receive hospital treatment within 12 months, of the Accident occurring. Excludes Overseas Visitor health cover, Working Visa health cover and Overseas Student Health Cover (OSHC) Excludes claims covered by third parties and our Private Room Promise. Out of pockets may apply. 
Have questions?
Our team of experts are ready to help!
Enter your postcode to find your nearest store to have a face-to-face chat!
.
Fill in the form below or get in touch by calling our dedicated line 1300 110 086.
We are open on Sundays.
In providing your telephone number, you consent to Medibank contacting you about health insurance.
We'll have someone call you soon to help with any questions you have.
Or, check out our FAQs and guides to help get you started.