Why Medibank Currency Card
A Medibank Currency Card gives you safe access to your money, anywhere in the world. It takes the hassle out of paying for things while you're overseas.
Use your card with confidence
Chip and PIN protected with access to Global Emergency Assistance 24/7 wherever you are.
Lock in exchange rate
Load your Currency Card before you go to avoid exchange rate fluctuations.¹
Accepted in millions of locations
Use your card in-store, online and at ATMs wherever Mastercard® is accepted.
Free international ATM withdrawals
Save money when you take out cash, with zero fees on international ATM withdrawals.²
Save money on fees and maximise your holiday fun!
We've kept the fees low on our Medibank Currency Card.
That means more money to spend on experiences, so you get the most out of your trip. Here's how you'll save:
No card purchase/initial load fee
Free international ATM withdrawals2
No card replacement fee
Free reloading via bank transfer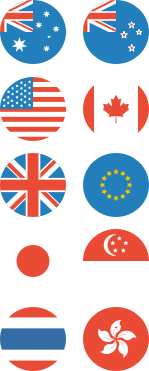 Lock in foreign exchange rates
Where are you travelling to? A Medibank Currency Card can be loaded with up to 10 different currencies.
You could use your card to bargain in Hong Kong, take a ride on the London Eye, and book Broadway tickets in New York, all in local currency.
The world is yours to explore.
We've got your questions covered
Funds can be loaded by bank transfer using internet banking.
BSB: 880-117
Account number: 9 digit account number to be retrieved from My Account
Account name: "Your name"
Bank transfers will generally take one business day to be processed, but may take longer if you pay after 2pm on a business day, Australian Eastern Standard Time (AEST).
Funds can also be loaded using BPAY or phone banking.
Biller code:          184416
Reference no:      your 16 digit card number
BPAY loads will generally take two business days to be processed, but could take longer if you pay after 2pm on a business day, AEST.
You can use the card at any shop that accepts MasterCard®, or use it online with the chosen foreign currency.
Alternatively, you can cash out the remaining funds in Australian Dollars at the prevailing exchange rate and have it transferred to your Australian bank account.
Simply log into My Account.
No. Your transaction history will be available via My Account.
You can visit My Account. Here you can check your balance, transfer funds, move money from currency to currency and see a list of all your purchases or ATM withdrawals.
You can contact Cards Services on 1800 098 231 (within Australia) or +44 207 649 9404 (if overseas). 
15% off travel insurance
Just because you're on holidays, doesn't mean your insurance should be. Luckily Medibank Travel Insurance offers market leading hospital, accident and medical evacuation cover while you're travelling.
Medibank and ahm private health members can now enjoy 15% discount on Medibank Travel Insurance.
Have questions?
Our team of experts are ready to help!
Enter your postcode to find your nearest store to have a face-to-face chat!
.
Fill in the form below or get in touch by calling our dedicated line 1300 110 086.
We are open on Sundays.
In providing your telephone number, you consent to Medibank contacting you about health insurance.
We'll have someone call you soon to help with any questions you have.
Or, check out our FAQs and guides to help get you started.