Australia, we have 26 million reasons to get vaccinated
Recent lockdowns and cases of COVID-19 around Australia remind us of the risks that the pandemic still poses to our communities. Vaccination is an effective way to protect ourselves and our loved ones  - especially those who are more vulnerable to the risks of COVID-19, like our grandparents or family members with pre-existing illnesses or conditions.
We can play a role in this. Vaccination helps protect us, our loved ones, as well as our communities and livelihoods. Hopefully, the sooner we can get vaccinated, the sooner we may be able to return to life as we knew it.
Each COVID-19 vaccination brings us closer to friends we've missed, places we couldn't reach, and a way of life we once took for granted.
Watch our reasons for vaccinating
Our dedicated health professionals and employees know something about keeping communities COVID-safe. Here they share some of their personal reasons for getting the COVID-19 vaccine.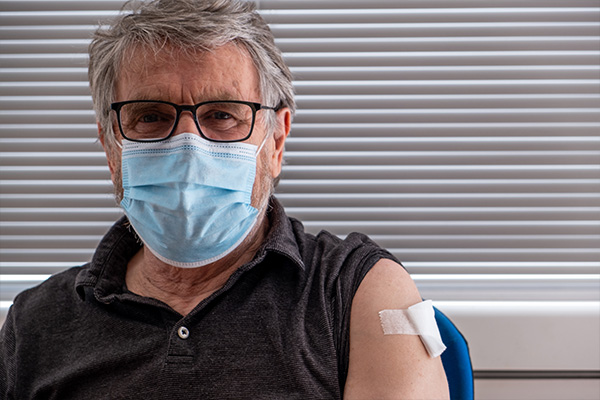 COVID-19 vaccinations now available at Myhealth
Medibank is a proud partner of Myhealth, who have been approved to provide COVID-19 vaccinations through their clinics in NSW, Victoria and Queensland*. 
Your COVID-19 vaccination questions answered


We understand that there are a lot of questions about the COVID-19 vaccine. To help you feel better informed, we've put together some of the most commonly asked questions from the Australian Government Department of Health website.

The COVID-19 vaccine will help protect you and others from getting really sick or dying from COVID-19, and if we can achieve a high vaccination rate within the community it's likely to reduce number of outbreaks, and the need to utilise border closures and travel restrictions as preventative public health measures.
It's important to note that the vaccine won't entirely eliminate the chance of getting COVID-19, but the severity of the infection may be reduced compared with not being vaccinated. 
COVID-19 is a highly infectious disease. Even if you're fit and healthy, you can still get COVID-19 and spread it to others, which can be particularly dangerous to loved ones with pre-existing conditions and illnesses.
You may also experience long-term side effects from being unwell – this is called 'Long COVID' or 'Long Haulers'. If this happens you might experience symptoms such as fatigue, breathlessness and chest pain.
While it is a potential side effect, there is a very low chance of developing a blood clot from a COVID-19 vaccine. 
Find out more about the risk of blood clots after a COVID-19 vaccination here
Please consult with your GP or health practitioner if you have any concerns.
Please refer to the joint statement here, from the Royal Australian and New Zealand College of Obstetricians and Gynaecologists and the Australian Technical Advisory Group on Immunisation.
You may experience some side effects after receiving a COVID-19 vaccination, like soreness or redness where you received your needle, mild fever or headache. Some people may experience more significant flu-like symptoms. Most side effects last no more than a couple of days.
Serious reactions such as allergic reactions are rare. They usually occur within 15 minutes of receiving a vaccine, which is why you are asked to wait for this time period after receiving your vaccination.
Use the COVID-19 vaccine side effects symptom checker if you have concerns about any symptoms after your vaccine. The checker is also available through the National Coronavirus Helpline, 1800 020 080, 24 hours a day.
You can also find out more information here.
The approved COVID-19 vaccines have undergone a thorough assessment in Australia.
Because of the severity of the COVID-19 pandemic, researchers and developers worldwide are prioritising the development of a vaccine.
The Therapeutic Goods Administration (TGA) were engaged much earlier with vaccine developers and pharmacy companies checking trials in real-time rather than at the end of clinical trial phases, which helped to accelerate the review process.
Find out more about the approval process at health.gov.au
Providing support for our members
Our 24/7 Medibank Nurse and Medibank Mental Health Phone Support lines are available for all members with hospital cover.
Due to higher demand for these services we are increasing the number of our health experts.


24/7 Medibank Nurse
Members with hospital cover can call our phone service to speak to a Medibank nurse about their health concerns at any time of the day or night.~
Mental Health Phone Support
Members with hospital cover can talk with a mental health professional over the phone in relation to any mental health or emotional concern, 24 hours a day 7 days a week.~

Have questions?
Our team of experts are ready to help!
Enter your postcode to find your nearest store to have a face-to-face chat!
.
Fill in the form below or get in touch by calling our dedicated line 1300 110 086.
We are open on Sundays.
In providing your telephone number, you consent to Medibank contacting you about health insurance.
We'll have someone call you soon to help with any questions you have.
Or, check out our FAQs and guides to help get you started.