Melbournians have endured what feels like endless lockdowns, punctuated by snap openings.
Restrictions for me can be surmised as living in isolation, and the blurring of the line that defines work and home life under working-from-home arrangements.
As a person who identifies as introverted by nature, the prospect of confined bubbles didn't sound too bad. Who doesn't want to rock up to work in their PJs?
COVID-normal gave this self-avowed homebody the perfect excuse to pimp out the mancave/home office; replete with dirt-free mountain bikes hanging on walls, exercise equipment, height-adjustable gadgets to eliminate any ergonomic niggles. Basically, every creature comfort conceivable within arm's reach of me, myself and I.
I accepted my new reality for the foreseeable future, making the most of my personal space, being left alone to do my work, and secretly enjoying the ample 'me' time and space.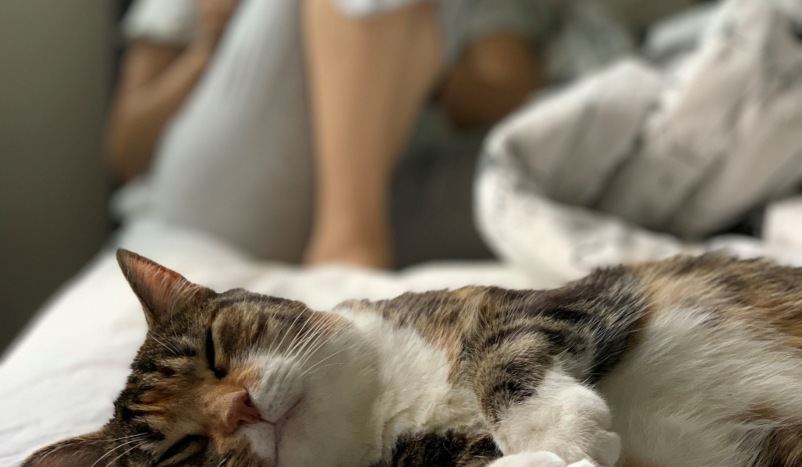 Imprisoned within my comfort zone
It was around the six-month mark of the pandemic, late into 2020, when it dawned on me that too much of a good thing can actually be harmful. The pandemic and the ensuing restrictions gave me plausible cover to revert to a version of myself that frankly wasn't good for my mental or physical wellbeing.
There was also the rude awakening of wearing pants without an elastic waist for the first time in many months. The slippery slope of reduced physical activity, increased incidental snacking spiralled into a reluctance to socially engage with others, very conscious of any weight gain that may be conveyed via video or in person.
Where I once had the confidence to socially engage on my terms, I was now uncertain and conscious, to the point of avoiding social interactions altogether.
This was the point at which I lost all distinction between being alone and feeling lonely.
Coming out of the bunker…
For my journey out of self-imposed lockdown, I focused on those activities I missed the most, namely dragon boat paddling and hiking. Being able to have close friends and family over was something else I looked forward to. Having those goals helped me out of lockdown. I was also mindful not to impose my eagerness on others, especially if they needed time to adjust to life after lockdown. Which brings me to my first tip…
Baby steps are fine
Reconnecting doesn't mean inviting the maximum number of allowable guests over at the stroke of midnight. Even as we venture cautiously through various phases of the pandemic, we've kept house visits to a minimum, opting to meet at parks and cafes.
I eased myself into the swing of things, arranging to meet up with work colleagues one on one, especially people with whom I worked very closely with during lockdown. Being able to reconnect faces to familiar voices was a small but welcome step towards normality.
Measured doses to ease ourselves back into an in-person setting – such as those offered in exposure therapy by a psychologist – may help those who feel anxious about rebuilding social interactions.
Reacquainting myself with a healthier me
Though I've yet to shed all the lockdown kilos, reacquainting myself with my sporting passions has helped me shift to healthier eating.
Of course, in recent times, we've become more aware of the benefits of eating healthy, on both our bodies and minds. If you need some inspiration, check out Live Better for tasty recipes and simple tips for healthier living.
Cut yourself and each other slack
Though I confess to letting myself go during iso, I learned not to be too hard on myself. This is a once-in-a-lifetime event that continues to turn the world upside down, so I'm mindful to cut slack to friends, family and strangers. We are all coping, struggling and managing through the pandemic in our own unique ways.
Talk it out
My circle of confidants is small but trusted. So it helps to talk about what I am going through with those entrusted with my vulnerabilities. Not only to remain connected to them, but also to know that I am not alone in my thoughts. The kinship that comes from a shared experience continues to provide comfort as we navigate our way through the pandemic together.
Connect through care packages
Sending and receiving care packages helped me remain connected to my parents in Sydney. And though it's been two years and counting since I last saw them, to be able to send Mum and Dad a surprise hamper filled with their favourite treats has provided me the emotional nourishment I needed to feel close to them, despite the distance.
Speak with a professional
It's important we take the time to process what is happening to us, both as individuals and as a community. One of the positives to come out of the pandemic is that more and more people are taking positive steps to look after their mental health.
In fact, between 16 March 2020 and 19 September 2021, almost 21 million Medicare-subsidised mental health-related services were processed.
If you continue to feel uneasy, anxious or isolated in your thoughts, seeing a mental health professional may be in order. You won't be alone, and you can trust the millions of Australians before you who did the same for the sake of their health and wellbeing.
And embrace the positives of the pandemic
A survey conducted by the Australian National University revealed two thirds of respondents found something positive to come out of the pandemic.
For me it was the profound appreciation for those I missed. A renewed sense of value and love for home and those who inhabit it. What's more, the pandemic is something that affects us all. It's a shared experience that reminds us that we're not alone in what we're going through or how we're feeling.
As they say, absence make the heart grow fonder, and I've learned to see the beauty in the most innocuous of things. And a clear, sunny day takes on a new level of urgency that beckons to be enjoyed. I hope these things will stay with me long after the artefacts of COVID-19 are behind us all.