Every Saturday morning, community connections are being forged in more than 400 parks across the country.
Parkrun may sound like a runners' club to those who haven't heard of it, but to those in the know, it is so much more than that. The free 5km community events where you can walk, jog, run or volunteer are more about social connection than fitness, according to Glen Turner, parkrun Australia's Health and Wellbeing Lead.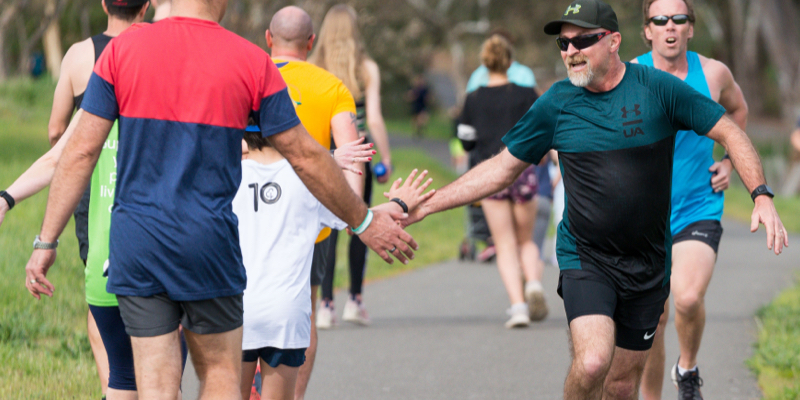 "The pandemic reinforced what we always suspected: parkrun is not about the events and courses, it's about the people involved and that human connection," he said.
"I've heard things like; my parkrun community has been my lifeline through COVID, and if I didn't know these people previously, I wouldn't have known anyone in my neighbourhood."
More than just running, it's about connecting
The original parkrun was started in the UK by Paul Sinton-Hewitt, who was living with depression and a long-term injury. He needed a reason to get his running friends together. The 5km loop was the hook, but it was really all about an excuse to catch up and go to the café afterwards.
Since then, the event has grown into a worldwide phenomenon with 100s of 1000s of people taking part each Saturday in 23 countries. And nearly all of them start and end near a café.
Parkrun is not competitive – there are no medals for the fastest times and no-one comes last (thanks to a volunteer 'tail walker'). It's just about getting together and challenging yourself.
"You know you've got that café at the end where the real parkrun takes place. Where people are talking to each other, meeting their neighbours and feeling part of their communities," says Glen.
"You can walk, you can volunteer, you can support. We know people who skip the event altogether and go straight to the café as they know there is going to be people there and it may be the only social connection they'll have during that week."
A family away from family
For parkrunner Andy Sutton, the events have made a big contribution to his mental wellbeing, and were a crucial part of making connections when he moved to Australia.
"Australia is quite different from the UK when you start to peel back the layers, so we needed an anchor of familiarity to help us adjust to our new life and connect socially. Our local parkrun at The Ponds in Sydney was one of those anchors – an activity that had previously been 'me time' was now a weekly family outing that helped us integrate into our new community," he said.
He encouraged anyone considering parkrun to give it a go, particularly by coming along with a friend or family member for the first time.
"Whether you live opposite the park or have moved from the other side of the world, people are social creatures and the value of making those connections at parkrun cannot be underestimated."
Runners, walkers, volunteers or supporters, there's a place for everyone!
For Kat Oborne, parkrun is an important way to stay on top of her anxiety.  
"Every Saturday morning, whether I am running the course or calling out encouragement as part of the volunteer team, I am always sharing smiles and friendship with my fellow parkrunners."
It's volunteering at parkrun, she says, that has improved her mental health the most. "Through volunteering at parkrun, I found my tribe. These wonderful friends have been so important, especially during Melbourne's lockdowns."
And for 69-year-old Ken, who had enjoyed running on and off throughout his life, finding parkrun has given him a new lease on life.
Renewed sense of feeling connected
"Parkrun gave me a new direction and enthusiasm, to the extent where my wife and I travel to new places around Victoria to do parkrun as tourists," he said.
Since he stumbled across parkrun on a trip to Portland, he hasn't missed a week (other than those impacted during lockdowns). And is a regular at his local parkrun at Point Cook in Victoria.
"You can only meet new people by being in a position where you do – and it's just a very friendly atmosphere."
One of the best things about parkrun, says Glen, is that people can get involved however they feel comfortable.
"If you are an extrovert, you may want to start by just coming along for the coffee afterwards. If you're an introvert, you may want to pop in your headphones and do the walk or run. Experience it in the way you feel comfortable," he said.
He encouraged first-timers who are nervous to get in touch with the event organisers through their local parkrun's website or social media, so they can welcome them and support them to get involved. "It doesn't need to be scary, and we'll support you through that journey."