Chronic knee pain is a common and often debilitating symptom of osteoarthritis, which occurs when the cartilage around your joints breaks down.  
There is no cure for osteoarthritis, but there are treatments available to manage the symptoms. And if you have private health insurance, you may be able to use your cover to help.
If you suffer from osteoarthritis, here are some tips for managing your condition – and how Medibank might be able to support you.
First, visit your GP
If you're suffering from chronic knee pain and you're concerned you might have osteoarthritis, your first step should be to visit your GP, as they can assess and discuss your symptoms. If necessary, they may refer you to a specialist.
While your private health insurance won't pay benefits towards a GP visit, Medicare pays for or subsidises GP appointments for Australian residents.  
See a physio  
A physiotherapist can help you manage pain associated with your condition through targeted exercises and, in some cases, assistance with specialised equipment.
Depending on your level of extras cover, your private health insurance might be able to help with costs associated with your treatment. By choosing a Members' Choice provider, most extras policies allow eligible Medibank members to claim between 55-100% of the total bill for included services, up to your annual limit and subject to any waiting periods. You can check your remaining limits and submit a claim by logging into My Medibank or using the My Medibank app. You can also find your nearest Members' Choice provider here.
If your physiotherapist suggests using a TENS machine or other special equipment to help manage your pain, check to see what's included in your extras cover. Our Growing Families Extras cover pays towards the hire or purchase of a TENS machine*.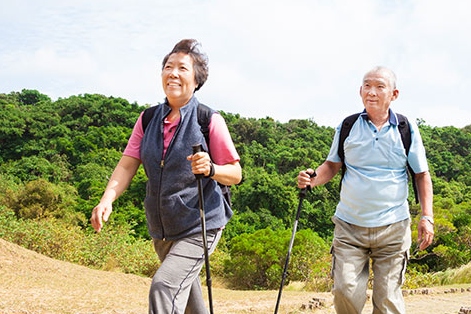 Is knee pain holding you back?
We're delivering a program to help eligible Medibank members with painful knee osteoarthritis to reduce knee pain, improve their quality of life, and lower the chances of requiring joint replacement surgery. For more information about the Better Knee, Better MeTM program and to find out if you're eligible, click on the 'Find out more' button.
Build up your strength and fitness  
Osteoarthritis can significantly affect the weight bearing joints of the legs, so regular exercise is essential to keep the large muscles of your legs strong and flexible. Increasing your general physical activity levels is important too; just remember to check with a health professional that the type of exercise you're doing isn't aggravating your symptoms.
Clinical Pilates – a type of exercise that focuses on posture, core stability, balance, control, strength, flexibility, and breathing – can be ideal for peopleis an option for people with osteoarthritis.    These sessions are led by fully qualified physiotherapists who often provide individual treatment programs. If you have extras cover with physiotherapy, and Clinical Pilates is delivered by a registered physiotherapist, your private health insurance might help cover the cost of these classes. Check your cover summary or give us a call on 1300 471 725 if you're unsure.
You can also check out Medibank's Live Better activities for fun social events to get your body moving. And as an eligible Medibank member with hospital or extras cover you can earn points that go towards rewards, simply for looking after your health - download the Live Better app to get started.**
Eat well for a healthy weight  
Achieving and maintaining a healthy weight is an important way to manage osteoarthritis symptoms, as it reduces the load and pressure on your knees. Even a few kilograms of weight loss can help to improve knee pain and function.  
One way to manage your weight is through good nutrition. Start by planning your own meals and cooking for yourself; Medibank's Live Better website has plenty of delicious healthy recipe ideas for you to try.
You might also choose to see a dietitian, who can prescribe you with tailored nutrition advice. Check your cover to see if you can claim benefits towards consultations with a dietitian, up to annual limits and subject to any waiting periods.
Ask about the Better Knee, Better Me™ program  
If you have Medibank hospital cover which includes joint replacements, you may be eligible to participate in Better Knee, Better Me™ . The 12-month program designed by Medibank and the University of Melbourne supports eligible members with chronic knee pain that is caused by osteoarthritis through personalised plans for exercise, weight loss and pain management, and aims to decrease your chances of requiring knee replacement surgery in the future. 
The program is delivered remotely via video and phone consultations with accredited dietitians and physiotherapists, meaning you can participate from the safety and comfort of your own home – regardless of where you live.  
There is no cost to enrol or participate, however if you consult your own GP or specialist in the course of the program, there may be a cost if they don't bulk bill.
For more information, click here.
Get expert health advice
All Medibank members with hospital cover can call the 24/7 Medibank Nurse Phone Service on 1800 644 325.Δ Our experienced nurses can answer any questions you have about your condition and managing your health in general. OSHC members should contact the Student Health and Support Line on 1800 887 283.
Talk to us if you need to go to hospital
If you need to go to hospital, make sure you're fully informed before your visit. The earlier you contact us about your hospital admission, the earlier we can help support you through it. 
Medibank's Hospital Assist is a valuable resource to prepare you for your hospital admission and also learn about programs such as our no gap joint replacement pilot prorgram#. Our procedure costs estimator lets you look up the typical costs of your procedure, and how to manage them, what you might pay out-of-pocket and how health insurance could help manage the costs. And you can get lots of practical information and advice to help you prepare for—and recover from—your hospital stay in our going to hospital guide.
You can also call us on 132 331 to review your cover, confirm what out-of-pocket costs you are likely to encounter, and find out more about what you can expect from your hospital stay.
Whether it be more claimable services or a higher claiming limit, a health cover review can help you find the right level of cover for your changing needs. For more information, or to check that you have the best cover for your condition, chat to our friendly staff online 24/7. Waiting periods may apply when changing cover.