What is Medicare?
Medicare is the foundation of Australia's healthcare system. Under Medicare you can be treated as a public patient in a public hospital by a doctor appointed by the hospital and generally for no charge. As a public patient, you can't choose your own doctor and you may not have a choice about when you are admitted to hospital.
---
What is private health insurance?
Private health insurance generally consists of Hospital cover and general treatment cover, also known as Extras cover. There are different types of cover that offer different benefits.
With Hospital cover, if you're an Australian resident with private health insurance, you can choose to be treated as a private patient at either a private or public hospital (provided the services is included under your cover and you have served your waiting periods) or a public patient at a public hospital.
If you are a private patient at a private hospital, you may also have more choice as to when you're admitted to hospital. If you are a private patient in a public hospital, the hospital waiting lists still apply for elective surgery.
Extras cover helps with the cost of services generally not covered by Medicare and focus on keeping you on top of your health. Extras include things like dental, glasses, physiotherapy and a range of other services.
You may be able to select a basic Hospital cover and a comprehensive Extras policy to create your own combined package. You can get packaged cover where Medibank has created a package of Hospital and Extras together, or you can mix-and-match a Hospital and Extras cover – the choice is yours.
What is the role of private health insurance?
Private health insurers such as Medibank can assist people with the costs of accessing private hospital treatment. The private healthcare system complements the public healthcare system.
---
Is private health insurance worth it?
Private health insurance gives you flexibility when it comes to your healthcare.
With Hospital Cover you can choose your own doctor, and decide whether you will go to a private or a public hospital.
You may also have more choice as to when you're admitted to hospital. As a private patient in a private hospital you'll be treated as soon as you and your doctor are ready, and you may get a private room depending on hospital resourcing, availability and clinical need.
There may still be out-of-pocket costs depending on things like the hospital you're admitted to and what services are included or restricted under your cover. With private health insurance it's always best to contact your private health insurer before arranging treatment to find out what they pay towards the treatment, and whether there will be out-of-pocket expenses related to your treatment.
Private health insurance also helps you stay on top of your health with Extras cover, which helps with the costs of treatment by health service providers like dentists. The extent of your cover depends on the type of policy you select and may include: dental, glasses, physio and more. A yearly trip to the dentist is an example of one of the most commonly used treatments.
There are limits that may apply, for example: a limit per service, per year, or lifetime limits. Some services may not be included at all. Get familiar with your policy so you know what your cover includes.
Government surcharges and incentives
The Australian government provides the Australian Government Rebate on private health insurance to encourage people to take out private health insurance. 
If you don't have Hospital cover with an Australian registered health fund by 1 July following your 31st birthday and then decide to take out hospital cover down the track, you could pay the Lifetime Health Cover loading on top of your hospital premium. The loading increases for every year you are over 30.
If you are not covered by an appropriate private hospital insurance policy and you earn above a certain income threshold, you may have to pay the Medicare Levy Surcharge when you lodge your tax return.
Read more: Government incentives for taking out health insurance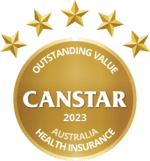 Canstar awarded 'Outstanding Value Health Insurance' 16 years in a row
We're proud to deliver outstanding value health insurance products designed to suit your needs. But don't just take our word for it.
Useful resources 

What are the common hospital procedures for someone like you?
Our interactive tool reveals the common procedures, what you might pay out-of-pocket and how health insurance could help manage the costs.
How much extra tax could you pay without hospital cover?
Use the Medicare Levy Surcharge Calculator to find out if you're eligible, or discover how much extra tax you may be paying by not having Hospital cover for a full tax year.#
Understanding Health Insurance
Health insurance can be tricky to understand. To help, we have put some handy guides together to get you started.
Have questions?
Our team of experts are ready to help!
Enter your postcode to find your nearest store to have a face-to-face chat!
.
Fill in the form below or get in touch by calling our dedicated line 1300 110 086.
We are open on Sundays.
In providing your telephone number, you consent to Medibank contacting you about health insurance.
We'll have someone call you soon to help with any questions you have.
Or, check out our FAQs and guides to help get you started.
We noticed you were considering joining. Complete your application in 2 minutes.
Continue Join