You may be dreaming of your next flight to a distant country abroad, but some of the best options are actually a lot closer to home. Australia offers incredible domestic travel options for your next break, so try skipping the hassle of international travel and explore some of the country's local hidden gems.
The beauty of staying domestic is that you can find adventure with the comfort of knowing you're not too far from home. Say farewell to long-haul flights, jetlag and confusing currency conversions on your Australian holiday and discover all things great about staying local.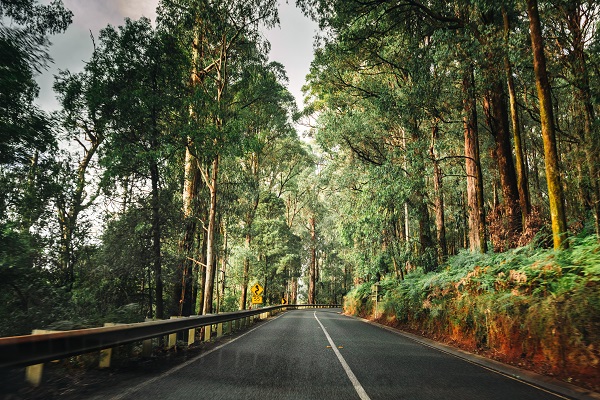 Pick your own adventure
Australia's unique and astounding beauty, rich cultural history and vibrant cities make for the ultimate domestic holiday experience. Whether you are seeking the sun in the tropics, sipping Pinot in the Barossa Valley, or road tripping along the Great Ocean Road, Australia has something to offer all travellers. We've rounded up a few of the most well-known Australian travel destinations (which are only a snippet of everything Australia has to offer) according to what you might be interested in, to help make choosing your next holiday destination a little easier.
Wine drinkers
There are great wine regions scattered throughout the country, from the Barossa Valley in South Australia to the Claire Valley in New South Wales and even Margaret River in Western Australia, making wine lovers spoilt for choice. Choose a region which specialises in your variety of choice and then all that's left to do is enjoy a glass over a long, lazy lunch.
Sun seekers
While most of the country is blessed with plenty of sunshine in the summer months, if you're seeking some winter sun you'll be pleased to know there are plenty of sun-drenched locations around the country in the cooler months too. Broome in Western Australia offers beachside camel safaris and pearl farming, while Darwin's surrounding national parks provide plenty of space to stretch your legs. Port Douglas is ideal for romantics, and winter at Uluru in the Northern Territory means cooler temperatures with clear blue skies.
Culture buffs
Culture lovers rejoice as Australia is home to an abundance of world-renowned galleries such as the NGV (National Gallery of Victoria) and MONA (Museum of Old and New Art) whose contemporary and sometimes controversial exhibitions draw in crowds from around the world.
Sports lovers can walk in the shoes of their sporting heroes as Adelaide Oval and the MCG (Melbourne Cricket Ground) offer guided tours. You'll also find historic towns throughout the country which offer a step back in time. Bendigo, just an hour north of Melbourne, takes visitors back to the gold rush era, and the regional town of Hahndorf delivers a slice of Germany only a short drive from Adelaide.
Wildlife lovers
There are plenty of opportunities to get up close to wildlife throughout the country, and every state offers a unique wildlife experience. In Western Australia you can swim with whale sharks along the Ningaloo Reef or take a selfie with camera-loving quokkas on Rottnest Island. Find Nemo on Queensland's Great Barrier Reef or picnic within arm's reach of kangaroos on South Australia's picture-perfect Kangaroo Island.
Outdoor adventurers
From kayaking along Katherine Gorge in the Northern Territory to skiing down Mt Kosciuszko in New South Wales, Australia is an adrenaline-seekers delight. Whether you prefer snowy adventures, water-based escapades or on-land explorations, be sure to pack your sense of adventure.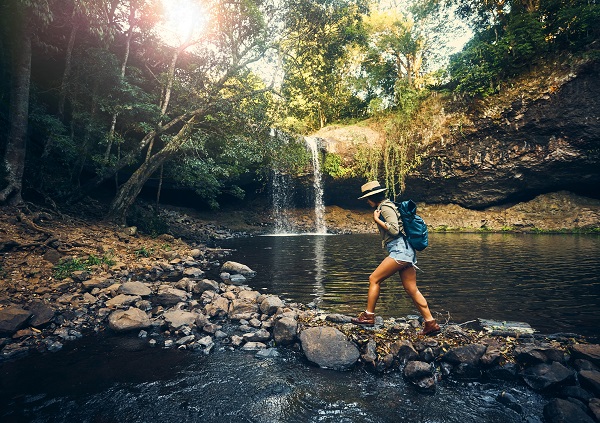 Keep it short and sweet or take a longer escape – it's your choice!

International holidays for Australians typically mean long-haul flights, which we all know means jetlag.
Forget losing half of your holiday to travel time and adjusting to different time zones: domestic travel means you can take shorter escapes with direct flight paths around Australia, so you can leave behind layovers and confusing connections.
Australian travel gives you more time to enjoy your holiday, rather than spending it in transit. Going away for a long weekend, a week, two weeks or a month? Domestic travel can be a better way to utilise your annual leave, with less time spent flying and more time exploring. Did we mention no jetlag?
Support regional communities
While domestic travel comes with many benefits, stepping out and exploring Australia can also help improve the lives of other fellow Aussies. After 2020's devastating bushfire season and COVID-19's abrupt halt to the tourism industry, Australian regional tourism needs a boost. Your help could be in the form of exploring pristine white sand beaches, taking in the views of the rugged countryside, or hiking in rainforests. If you want to support the communities which have been most badly affected, visit smaller, regional towns and help the Australian tourism industry come out of its slumber.
Make the most of your Australian holiday with these travel tips
Planning ahead is a great way to get excited for your next Australian holiday while also ensuring your trip runs as smoothly as possible.
1. Book your flights well in advance
The best way to get a good price for your next domestic flight is to book as far in advance as possible. Flight prices tend to surge the closer it gets to the flight date, so it pays to think (and book) ahead.
Wondering if you need a passport to travel interstate? When flying domestically you may need to show photo identification but, in most cases, you won't need to show a passport. However, it's best to check with your airline before heading to the airport.
2. Pack as light as possible
We tend to overpack for the unknown in international travel. The beauty of staying domestic is that most of the brands you know and love will still be available throughout most cities around the country. Do be sure to try and purchase any forgotten essentials before you head anywhere rural, however, as some items can get a little pricey in regional towns.
3. Look out for different road rules
Road rules may change from state to state so it's worth looking up any differences to ensure you're always following the law.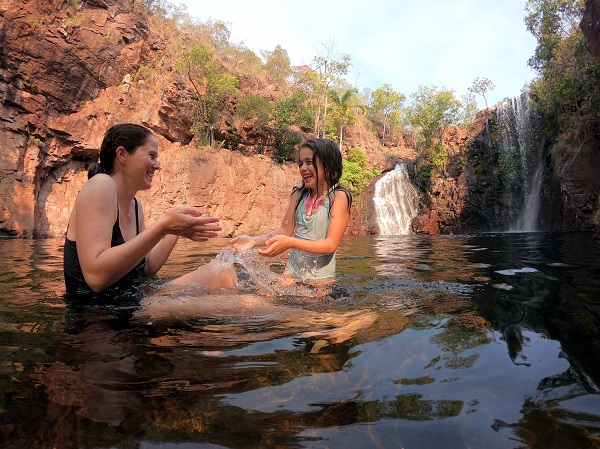 Things to consider before hitting the road
Even on Aussie shores, plans can sometimes go amiss. That's why you should travel with peace of mind and consider purchasing domestic travel insurance. With Medibank's Domestic Travel Insurance, you can rest assured knowing that cover is provided for unlimited cancellation cover, as well as rental car insurance excess and a 24/7 assistance for anything that might derail your travel plans.

Medibank Domestic Travel Insurance
Pack peace of mind on your next Aussie adventure.
Plus, if you're a Medibank health member you'll save 15%.
Important things you should know
Limits, sub-limits, exclusions and conditions apply. This is general advice only. Medibank Private Limited, ABN 47 080 890 259, an Authorised Representative, AR 286089, of Travel Insurance Partners Pty Limited, ABN 73 144 049 230 AFSL 360138, issues the insurance on behalf of the insurer. The insurer is Zurich Australian Insurance Limited ABN 13 000 296 640, AFSL 232507. Please consider your own needs and the Combined FSG/PDS available from Medibank stores or medibank.com.au/travel to decide if this product is right for you.