The Australian east coast is a traveller's dream with endless beaches and flexible road trip routes. Below are two must-see east coast road trip itineraries, but feel free to get lost and adjust the route to suit your timeframe.

Driving around Australia will give you the freedom to explore: you can escape the city with shorter weekend-style trips or take extra time to travel a little further. Staying local also means that you're supporting your regional neighbours who rely on tourism.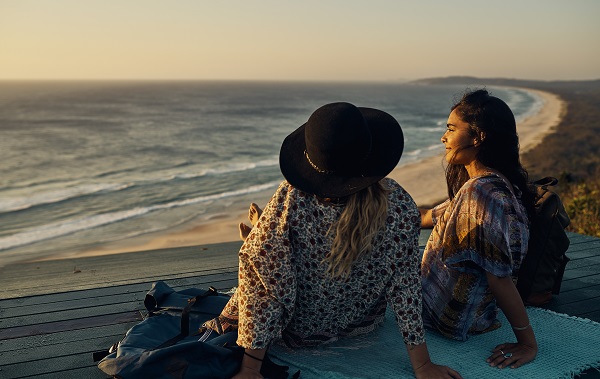 NSW: Sydney to Byron Bay
Route: Sydney > Newcastle > Port Macquarie > Byron Bay.
Driving time: 8.5-hours
Recommended duration: 6 nights.
Sydney – 2 nights for non-Sydneysiders
Newcastle – 1 night
Port Macquarie – 1 night
Byron Bay – 2 nights
1. Sydney
For any non-Sydneysiders, spending a few days in the city is highly recommended. From national icons like the Sydney Harbour Bridge and Opera House, to iconic beaches and ocean swimming pools, there is enough to see and do in Sydney to fill a whole week. For culture buffs, a trip to the Australian Museum, Australia's oldest museum, is a must, followed by a leisurely stroll through The Rocks district whose streets are lined with architectural beauty and one-off boutiques.
Once you've soaked up everything Sydney has to offer, jump in the car and hit the Pacific Highway to begin your road trip. Next stop, Newcastle.
2. Newcastle
Take your east coast road trip north just over two hours from Sydney, to the seaside town of Newcastle, home to the oldest export port in Australia. Breathe in the fresh sea air and visit the famed Memorial Walk, a scenic cliff-top walkway honouring the ANZAC soldiers, and a powerful monument overlooking the town of Newcastle. Kids will love the Blackbutt and Hunter Wetland Nature Reserves where curiosity is met with walking trails, wildlife experiences and water sports.
Only an hour away, travellers will find the Hunter Valley wine tasting region, famed for its Semillon and Chardonnay. A wine-lovers paradise, the Hunter Valley is well worth a round trip from Newcastle if you have the time.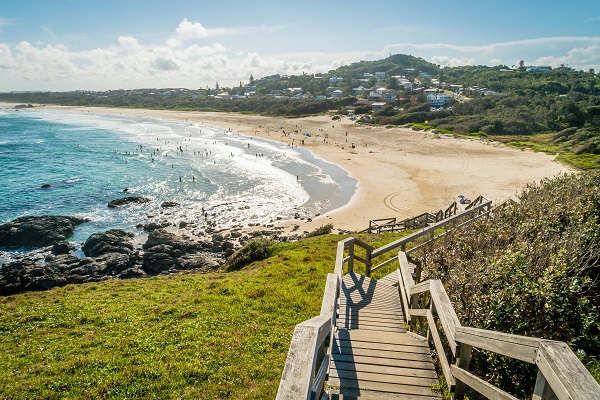 3. Port Macquarie
Travelling up the east coast for just under three hours you'll be rewarded with beautiful Port Macquarie. Keep your eyes peeled along the way for local wildlife as the lush-green terrain is home to native Australian animals such as kangaroos and koalas.
Locals' favourite Lighthouse Beach provides a sheltered cove which is also home to the city's famous camel beach safaris. Wildlife parks and even a koala hospital is top of the must-see list for travellers, and the Port Macquarie Coastal Walk is a great way to get a feel for the area and stretch your legs after the drive.
4. Byron Bay
Explore the hinterland's waterfalls, grab a laid-back brunch, hike to the lighthouse, or simply relax by one of the many stunning beaches in Byron Bay. This town's lovable character makes this beach town iconic and a must-visit on your Australian road trip. If you are visiting between May and November, then you may be lucky enough to catch a glimpse of humpback whales as they make their way along the east coast of Australia during their annual migration. From the coast, the best viewing points are said to be from the Cape Byron Lighthouse, but there are many whale watching boat tours on offer which can bring you up close to these fascinating creatures.
VIC: Great Ocean Road
Route: Torquay > Lorne > Apollo Bay > Twelve Apostles > Warrnambool.
Driving hours: 4-hour drive
Recommended duration: 5 nights.
Torquay – 1 night
Lorne – 2 nights
Apollo Bay – 1 night
Warrnambool – 1 night
1. Torquay
Just over an hour's drive from Melbourne, Torquay marks the official start to the Great Ocean Road. Built by returned servicemen from WWI and completed in 1932, the Great Ocean Road is now known as one of the world's most scenic drives, offering a breathtaking view of the Bass Strait and the Southern Ocean.
A surfer's dream, Torquay is frequented by locals and Melbournians looking to escape the city in search of a great swell. Grab a coffee from one of the cafes that line The Esplanade or enjoy a picnic on the grass behind Front Beach.
On your journey from Torquay down to Lorne, make a pitstop at the world-famous Bell's Beach which hosts the annual Rip Curl Pro Surfing Competition, and watch surfers taking on the waves.
2. Lorne
The beachside sanctuary of Lorne is a great place for an overnight stop on the Great Ocean Road. Packed with quaint beachside cafés and shops, and plenty of nearby natural parks to explore, you may be tempted to stay more than just two nights. Take a short drive to Erskine falls in The Otways and witness a 30-metre waterfall plummet into the Erskine River below. Complete your visit by hiking up to Teddy's Lookout near Shelly Beach for sweeping views of the Bass Strait and Great Ocean Road below.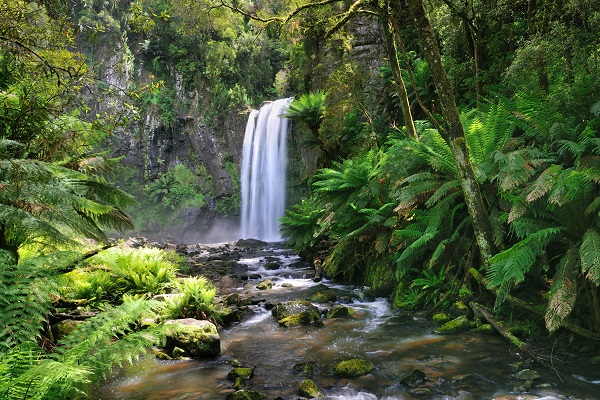 3. Apollo Bay
Apollo Bay is a perfect base for exploring the coastline and the Otway Ranges.
Only an hour's drive inland from Apollo Bay within the Great Otway National Park you will find the Otway Tree Top Walk. The longest and the tallest walkway of its kind in the world, this treetop walk spans 2km and takes about an hour to complete, offering a bird's eye view of the rainforest canopy. Other must-sees when driving around Apollo Bay are the Beauchamp falls, Hopetoun falls and a pitstop at the Marriner's Lookout for a full panoramic view of the wild Southern Ocean.
If you are lucky enough to be in Apollo Bay on a Saturday, then stop by the foreshore market, which offers arts and crafts and fresh produce ideal for road trip snacks.
The Cape Otway Lightstation perched 90 meters above the ocean provides a great insight into the history of the area, while the Lightkeeper's Kitchen Café serves freshly baked goods and coffee.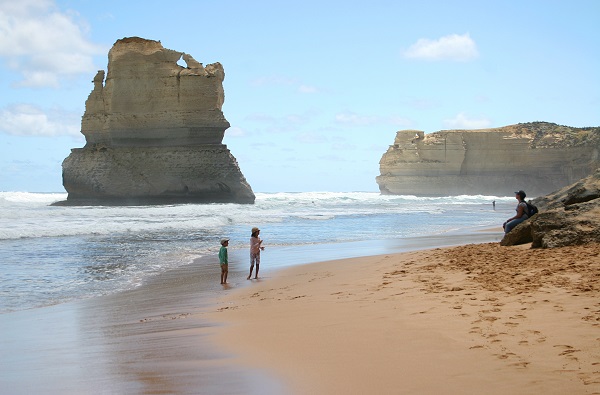 4. 12 Apostles
Making your way to the Twelve Apostles, snap your classic Great Ocean Road photo in front of the now 8 Apostles. Other noteworthy sights in the area include the Loch Ard Gorge, London Bridge and the Grotto, all incredible limestone cliff formations that are simply breathtaking to witness.
5. Warrnambool
Finish your Great Ocean Road adventure in the picturesque seaside town of Warrnambool. Wander the city's tree-lined streets featuring heritage buildings, and window shop in local boutiques. If you are visiting between May and September, you may even get to enjoy watching Southern Right, Humpback and Blue Whales as Warrnambool lies on the Whale Trail.
Everything you'll need to pack on your road trip
First, make sure you have everything you need to stay safe and healthy when travelling in Australia. You may choose to stay at hotels, hostels, or holiday rentals but if you want absolute freedom and the ability to get off the grid make sure you know what you need when camping. Loading up the car, you'll want to pack all the essentials for a great road trip.
A tent, sleeping bag, camping equipment
Gas stove and cooking utensils
Warm clothes for night-time
A back pillow for long driving stretches
Consider taking out Domestic Travel Insurance as well, providing  cover for personal belongings, and rental car insurance excess so you can travel with extra peace of mind.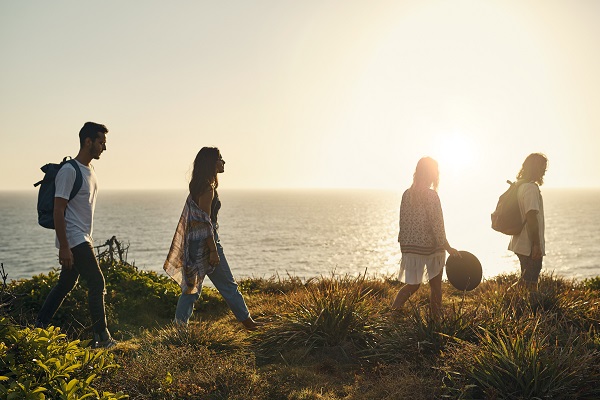 Road trip itineraries around Australia are endless and the east coast has thousands of beautiful locations. Don't be afraid to get out and take a weekend break or turn it into a longer trip. There's never been a better time to see what's waiting for you in your backyard.

Medibank Domestic Travel Insurance
Pack peace of mind on your next Aussie adventure.
Plus, if you're a Medibank health member you'll save 15%.
Important things you should know
Limits, sub-limits, exclusions and conditions apply. This is general advice only. Medibank Private Limited, ABN 47 080 890 259, an Authorised Representative, AR 286089, of Travel Insurance Partners Pty Limited, ABN 73 144 049 230 AFSL 360138, issues the insurance on behalf of the insurer. The insurer is Zurich Australian Insurance Limited ABN 13 000 296 640, AFSL 232507. Please consider your own needs and the Combined FSG/PDS available from Medibank stores or medibank.com.au/travel to decide if this product is right for you.