As you walk in the door of Estuary Yoga Space in North Melbourne, you'll notice the space is immediately welcoming. A pot of tea is set out on a table; Aria the greyhound is splayed out on a couch; a few students sit around chatting before a class. 
Studio owners Lucy and Andrew Lawes founded Estuary in 2017. You can often find one of them at the front desk, welcoming students by name as they arrive — building a rapport from someone's very first class. Lucy says this is intentional; they aimed to create a space that people wanted to return to. 
"Community was always at the heart of what we wanted to develop," she says. 
"The name 'Estuary' really covers the intention for our studio — it's where the waterways meet the seas, and a lot of life comes to an estuary because it is a safe harbour … that's what we hope for: everyone coming together to be nurtured and enlivened and grow." 
Lucy and her fellow teachers make sure people feel comfortable and connected as soon as they join the studio. 
"I try to introduce every new person to at least one other person in the moment that they arrive. That one point of contact can help you feel like you're not just invisible in the corridor."
This small gesture likely keeps people coming back: exercising with others can boost your mental health by creating community connections — and perhaps keep us more motivated to continue than if we're exercising alone. 
Associate professor of psychology Alison Phillips of Iowa State University studies health-related habits such as exercise. She says group exercise satisfies a few key aspects that help us stick to an activity. 
"Self-determination theory — a theory of motivation — says there are three psychological needs that every human has: one of them is relatedness to other people, one of them is autonomy — so, freedom of choice — and one of them is competence — or mastery of skills," she says.
"Group exercise certainly satisfies the need for relatedness, but also for competence; the longer people do exercise, the more that they're able to build that competence, that feeling of mastery."
Lucy agrees that encouraging autonomy within a group setting is also important. 
"In my classes, I use a lot of invitational language: "You might try this", rather than, "Do this. Do that." 
Whether it's a yoga class, parkrun, HIIT, or water aerobics, here's why exercising in a group can prove incredibly beneficial — and how you can find a session that works for you. 
Accountability 
Phillips' research investigates whether both intrinsic and extrinsic motivation are important to help us form habits — and a group session can provide both.  
"I did research that showed physical activity is most frequent when people have both intrinsic motivation to exercise — they want to do it because they enjoy it — and a moderate amount of extrinsic motivation, which means external pressure," she says. 
"[Group exercise] has a bit of extrinsic motivation: you have pressure from your friends to show up, whether it's explicit pressure or just implied." 
If you're really struggling to stick with a new routine, Phillips suggests trying an extrinsic accountability tactic like writing a cheque for a political group you disagree with and being forced to send it if you don't show up. 
She adds that being around other people who prioritise exercise can also help you consider it a norm. 
Connection 
Exercising as part of a group can provide a sense of belonging and community, which is clearly on display in a studio like Estuary. 
"I feel like a lot of the community building happens not in the practice, necessarily, but around it," says Lucy. 
Phillips says sessions can be a source of those weak social ties that we may have missed in recent years. 
"Short interactions can be perfectly satisfying for your relatedness needs — I think a lot of people realised that after lockdowns, when we didn't get to have those really brief interactions with sometimes total strangers." 
This might be particularly beneficial for older adults: a study of older adults in Japan found that regular group exercise gave them a sense of security in the community as they cared for and supported each other.  
Confidence 
Group sessions can also boost your confidence, both physically and socially. 
Lucy has seen students open up after coming to classes, including a 78-year-old woman she used to teach. 
"When she first came in, she was barely speaking, very inward," Lucy remembers. 
"Gradually, a year or two years later, she would bring in paneer or pakoras for the teachers [and help] new people in class. 
"It was a blossoming — she could own her space, her movement was so much better, her breathing was so much better." 
Phillips explains that we build our identity in a group, which can help improve self-confidence. 
Cost 
Another practical benefit of going to group sessions is that it will probably keep your costs down. While personal training can be useful if you want individual feedback, you'll often shell out much more than you would for a group session. 
Starting in a group might be a good way to test the waters before making a larger financial investment. It may also give you access to a wider variety of fitness equipment and amenities. 
You can also look out for free group events, like parkrun or exercise Meetups. 
How to find a group session that works for you
Don't be afraid to look around and try a few different things before you settle on something that suits. 
"One of the most important things is to not take first impressions as the ultimate impression — and be willing to try a few different avenues," says Lucy.  
"There is a style that can fit you — but it may take a bit of testing to figure it out." 
Also, recognise that group exercise might not be the best option for you — and there's no need to feel guilty if that's the case. Phillips says she actually prefers solo workouts. 
"It's funny [because I research this area], but I exercise by myself; I don't prefer exercising in a group. My exercise is my alone time … I don't want to pair it with social activity because I need to process stuff that happens during the day or just breathe on my own for a while." 
She adds that not expecting to love it straight away might help you stick to your new routine. 
"Realise that it will be hard, even if you enjoy it … It's a skill that you'll develop," she says.
"If people realise ahead of time that it's not something they're expected to be able to do or enjoy right away, they'll give themselves the patience and time they need to develop those skills and enjoyment of exercise."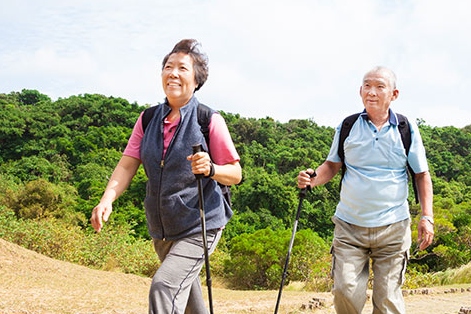 This 12-month program combines personalised plans for exercise, weight loss and pain management that aims to help eligible members better manage painful knee osteoarthritis and help reduce the impact it has on their quality of life. Clinical and product eligibility criteria apply.