University researchers are studying the value of patient reported experience measures to hospital users. To find out more and see if you are eligible to participate
CLICK HERE
About Westmead Private Hospital

| | |
| --- | --- |
| Hospital Size | 24/7 Emergency Department |
| Large | No |
There are two types of large hospitals - ones with a 24 hour Emergency Department and ones without a 24 hour Emergency Department. Both of these large hospital types have an Intensive Care Unit and a variety of specialised services. These are likely to be busy hospitals and may be noisy.
View hospital website
Patient Experience Survey
This information is intended to give you additional information on Medibank members' experience when staying overnight in hospital.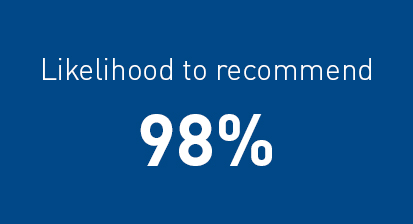 When asked, 27.4% of members would probably, and 70.5% of members would definitely recommend this hospital to family and friends. This hospital performed better than similar sized hospitals for likelihood to recommend.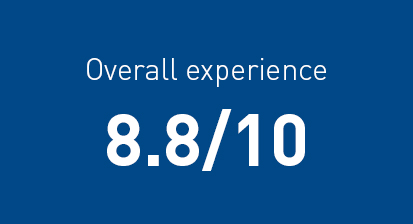 When asked, members rated their overall experience in this hospital as 8.8/10. This hospital performed about the same as similar sized hospitals for overall experience.

What is the Patient Experience Survey?
In the Patient Experience Survey, Medibank members who have had an overnight stay in a participating hospital are asked about 9 aspects of their hospital stay, as well as their likelihood to recommend; and to rate their overall stay.
These patient experience results are based on survey responses from 95 Medibank members who had an overnight stay in this hospital between 1 January 2021 to 31 December 2021.
Understanding the patient experience information
Each hospital's performance is compared to similar sized hospitals, and categorised as either performing lower than similar hospitals, performing about the same as similar hospitals; or performing better than similar hospitals.
The information provided does not reflect clinical experience or competency or represent a score against minimum standards or accepted industry benchmarks. This tool does not provide clinical, medical or other professional advice.
Communication and engagement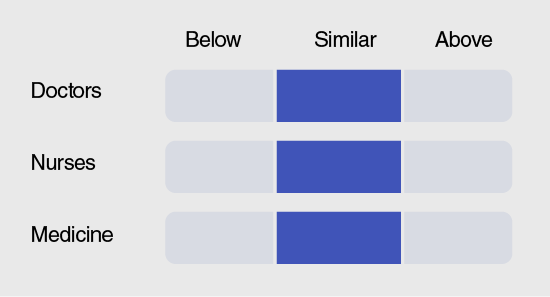 Doctors - Rated on qualities such as courtesy, respect and communication.
Nurses - Rated on qualities such as courtesy, communication and responsiveness.
Medicine - Rated on communications about prescribed medication and possible side effects. 
Care in hospital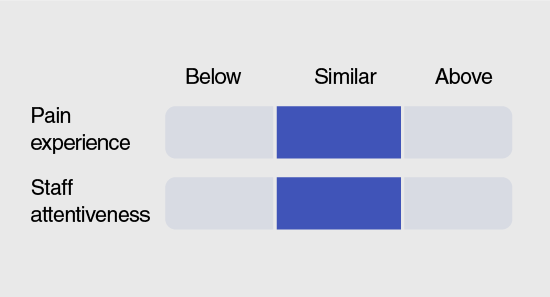 Pain experience - Rated on members' pain management experience and how responsive staff were.
Staff attentiveness - Rated on staff attentiveness including help using the bathroom.
Hospital environment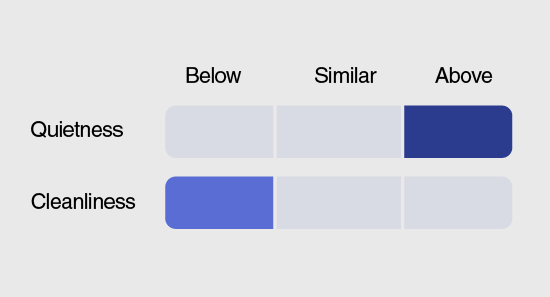 Quietness - Rated noise levels around their room at night.
Cleanliness - Rated how clean the hospital was, including their room and bathroom.
Going home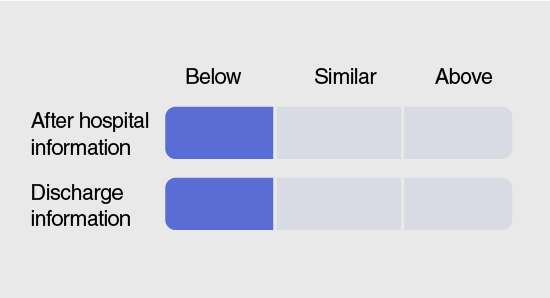 After hospital information - Rated on staff's understanding of member and carer preferences; and communication on health management and medications.

Discharge information - Rated on staff's enquiry about post hospital care arrangements; and information on any symptoms or problems to look for post hospital. 
Want to know more for an upcoming hospital stay?
We've developed a Going to Hospital Guide to give you a rundown of what you can expect to pay for out of pockets; and the right questions to ask.
And, call us on 132 331 as soon as you're planning a hospital stay to check your eligibility.
Things to remember
This information is intended to provide you with insights into other Medibank members' experiences when staying overnight in hospital.
Although hospitals are rated on members' experiences of the communication and engagement with doctors, often in private healthcare, patients choose their doctor before going to hospital, and doctors may work across more than one private and public hospital.
The score for how likely a member would be to recommend a hospital to family and friends is rounded to the nearest whole number.
The patient experience results for an individual hospital are compared to similar sized hospitals that we have at least 25 completed survey responses for, including private, and some public, hospitals. When completing a survey, a member may not answer all areas. For example, if the member did not get given any new medication whilst in hospital, they would not answer questions relating to medicine communication and engagement.
Patient experience information will not be available for all hospitals, as hospitals must have a minimum of 25 Patient Experience Surveys completed by Medibank members in the last 12 months, for their results to be published. This report has been produced by Medibank and does not represent official HCAHPS results. Learn more about how hospital results have been compared.
This information is reflective of Medibank members' experience when staying overnight in hospital for acute care. This information does not represent rehabilitation, psychiatric or day procedure admissions.
Have questions?
Our team of experts are ready to help!
Enter your postcode to find your nearest store to have a face-to-face chat!
.
Fill in the form below or get in touch by calling our dedicated line 1300 110 086.
We are open on Sundays.
In providing your telephone number, you consent to Medibank contacting you about health insurance.
We'll have someone call you soon to help with any questions you have.
Or, check out our FAQs and guides to help get you started.