Private health insurance generally consists of hospital cover and extras cover, but what's the difference between the two? Below is a general walkthrough of hospital cover and extras cover.

What is hospital cover?
Hospital cover can pay towards services you receive when you're admitted to hospital and treated as a private patient. It can't pay towards any services when you're not admitted to hospital (e.g. seeing your GP or specialist).

With hospital cover, if you're an Australian resident with private health insurance, you can choose to be treated as a private patient at either a private or public hospital (provided the service is included under your cover and you have served your waiting periods), or a public patient at a public hospital.
If you're a private patient at a private hospital, you may also have more choice as to when you're admitted to hospital. If you are a private patient in a public hospital, the hospital waiting lists still apply for elective surgery.
There may still be out-of-pocket costs depending on things like the hospital you're admitted to and what services are included or restricted under your cover.
With private health insurance it's always best to contact your private health insurer before arranging treatment to find out what they pay towards the treatment, and whether there will be out-of-pocket expenses related to your treatment.
What are some the benefits of Medibank hospital cover?
Accident cover boost: With our Accident cover boost, you'll be eligible for top hospital benefits if you have an Accident, regardless of your level of cover.~

Unlimited Emergency Ambulance: Hospital cover that gives you more with unlimited emergency ambulance*.
24/7 Medibank Nurse: Members with hospital cover can call our phone service to speak to a Medibank nurse about their health concerns at any time of the day or night3.

---
What is extras cover?
Extras cover helps with the cost of services generally not covered by Medicare and focuses on keeping you on top of your health. Extras include things like dental, glasses, physiotherapy and a range of other services.
The extent of your cover depends on the type of policy you select and may include. For example: a yearly trip to the dentist is one of one of the most commonly used treatments.
There are limits that may apply, for example: a limit per service, per year, or lifetime limits. Some services may not be included at all. Get familiar with your policy so you know what your cover includes.
What are some of the benefits of Medibank extras cover?
100% back on up to two dental check-ups at a Members' Choice Advantage dentist every calendar year, including x-rays#. 2 month waiting period applies. Find out more.

100% back on optical: See better value with 100% back on optical items at all recognised providers up to annual limits. Some lens coatings excluded.1
Members' Choice Network: with over 13,000 providers, it's the largest in Australia. At these health providers, we've negotiated great deals for Medibank members including capped pricing and a set percentage return for certain services. You'll generally have lower out-of-pocket costs than you would if you used a provider outside our network.
---
Ready to get started?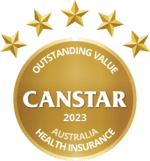 Canstar awarded 'Outstanding Value Health Insurance' 16 years in a row
We're proud to deliver outstanding value health insurance products designed to suit your needs. But don't just take our word for it.
Useful resources 

What are the common hospital procedures for someone like you?
Our interactive tool reveals the common procedures, what you might pay out-of-pocket and how health insurance could help manage the costs.
How much extra tax could you pay without hospital cover?
Use the Medicare Levy Surcharge Calculator to find out if you're eligible, or discover how much extra tax you may be paying by not having Hospital cover for a full tax year.²
Understanding Health Insurance
Health insurance can be tricky to understand. To help, we have put some handy guides together to get you started.
Have questions?
Our team of experts are ready to help!
Enter your postcode to find your nearest store to have a face-to-face chat!
.
Fill in the form below or get in touch by calling our dedicated line 1300 110 086.
We are open on Sundays.
In providing your telephone number, you consent to Medibank contacting you about health insurance.
We'll have someone call you soon to help with any questions you have.
Or, check out our FAQs and guides to help get you started.
We noticed you were considering joining. Complete your application in 2 minutes.
Continue Join