Medibank looks after the health cover needs of more than 3.7 million customers and delivers a wide range of programs to support health and wellbeing in the community.
In order to deliver our Better Health for Better Lives purpose, we are a strong advocate for a sustainable private health system that delivers value, transparency and affordability. This means putting our customers first and advocating for reform on their behalf.
Our Environmental, Social and Governance (ESG) commitments also play a significant role in our operating environment. Our approach is based on our commitment to the health and wellbeing of our customers, employees, community and environment.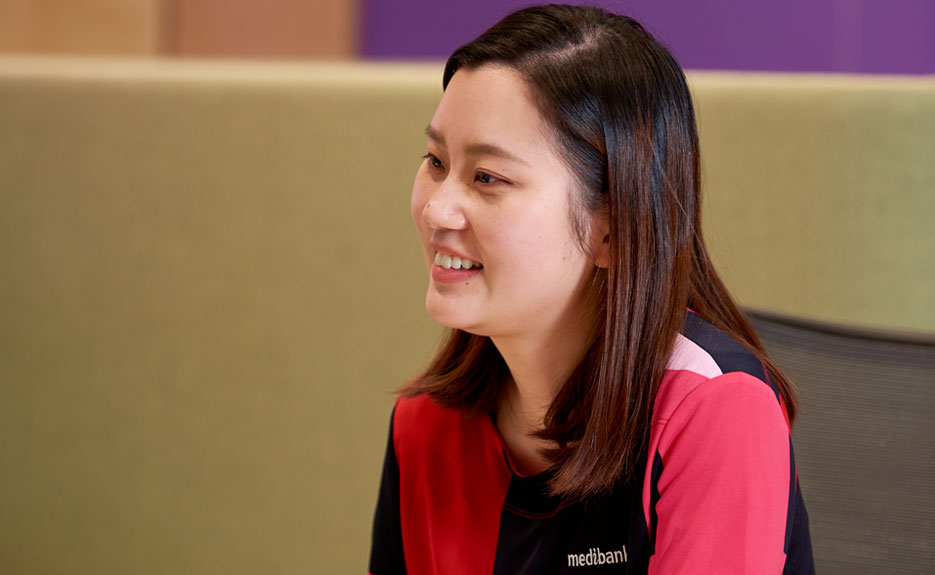 Activities
During the year Medibank provided private health insurance under our Medibank and ahm brands, supporting customers through more than 1.3 million hospital admissions and 500,000 surgical procedures, and around 23.5 million extras services. We also distributed travel, life and pet insurance.
In addition, Medibank provided a range of health services in Australia including mental health support, preventative and better integrated primary care, after-hours health support, and healthcare for the 60,000 permanent and 20,000 reservist uniformed Australian Defence Force personnel.
Milestone scorecard
Medibank set out three customer and three financial milestone objectives in November 2016. Our progress against these objectives at 30 June 2017 is shown in the table below: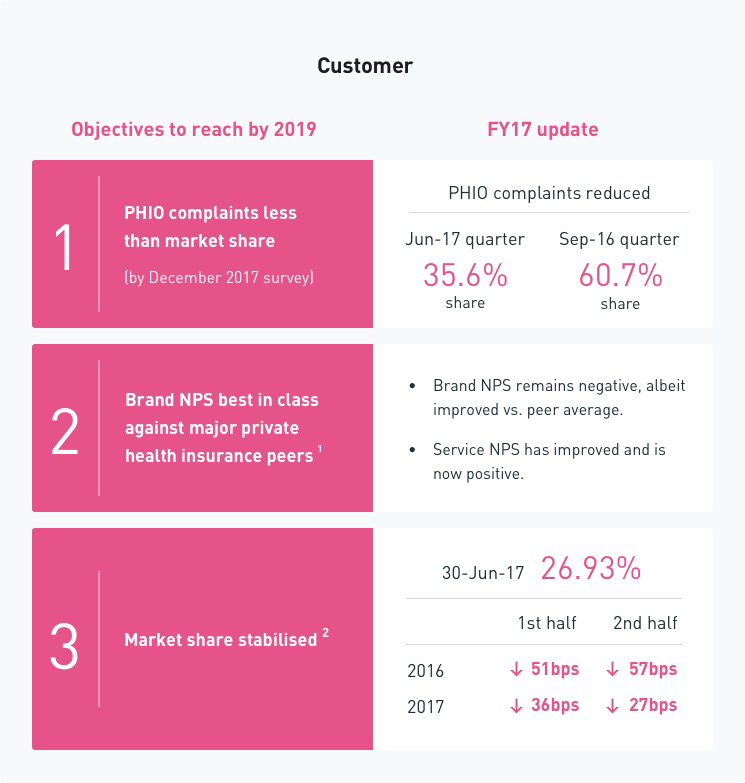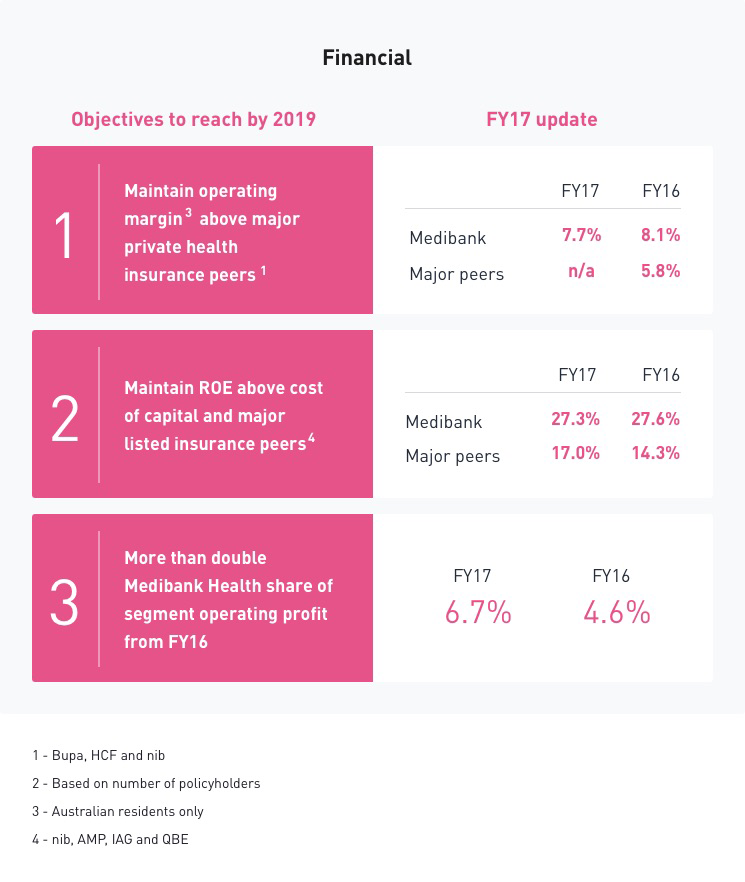 Reform
During the year Medibank proactively engaged the Commonwealth Government on measures to boost the value, transparency and affordability of private health insurance.
Further reductions to prostheses prices*
Incentives for young people to join private health insurance
Greater informed consent when using private health insurance in public hospitals
Enhance payment integrity for MBS claims
Maintain the rebate and regulations that encourage private health insurance
Greater transparency of costs and quality outcomes in the health system
* Ongoing prostheses reform will help to put downward pressure on private health insurance premiums.
The Australian Government announced the first stage of reform to the prostheses list in October 2016. Coming into effect in February 2017, we estimated the price reductions would realise $24 million in savings and fully passed these on to our customers in advance.
Our 2017 premium increase was 35 basis points (0.35%) lower than it otherwise would have been because of this.
We look forward to further prostheses reform to deliver additional savings, and are committed to returning every dollar saved to our customers.
We passed on 100% of the expected savings from the first stage of prostheses reform to our customers.
Broader regulatory landscape in 2017
Medicare Benefits Schedule Review
Ministerial Committee Review of Private Health Insurance
Prosthesis List Advisory Committee
Senate Review of Private Health Insurance
Senate Inquiry into Prostheses Prices
Environmental, Social & Governance factors
Environmental, Social and Governance (ESG) factors are important to Medibank. We undertook significant work during the year including conducting our first materiality assessment, establishing an executive-led ESG committee and putting in place a three-year ESG strategy that focuses on the health of our customers, people, community and environment.
Summary of ESG issues and themes examined as part of Medibank's materiality assessment
Governance & transparency
---
Integrity & independence
Executive leadership
Privacy & data security
Disclosure & reporting
Products & services
---
Affordability & access
Transparency & support
Health trends
Digital transformation
Environmental & social
---
Climate change risks
Reconciliation
Social practices
Supplier diversity
Workplace
---
Engagement
Health, safety & wellbeing
Capability
Diversity & equality
Financial position
---
Growth
Profitability
Shareholder value
Responsible finance
Stakeholders
---
Customer service & relations
Industry partners & relations
Public policy
Advocacy & regulation
Our ESG approach
Medibank is committed to the health and wellbeing of our:
CUSTOMERS and providing products, services and experiences to support them.
EMPLOYEES and driving a values-driven, inclusive and Customers First culture.
COMMUNITY and supporting Australians through community partnerships, health promotion and advocacy.
ENVIRONMENT and working through programs and partnerships to support environmental sustainability.
We are guided by the Triple Aim of Healthcare – better healthcare experiences, better outcomes, and better efficiency and affordability.
*Based on the Institute of Healthcare Improvement's Triple Aim of Healthcare