Medibank's annual general meeting was held in Melbourne on 14 November 2018. The 2018 Notice of Annual General Meeting, webcast details and annual report are available on our Investor Centre.
Welcome
We are pleased to present Medibank's 2018 Annual Review.
Here you'll find information about how we worked to enhance our products and services, improve healthcare value and expand our customer offering in 2018. You can also learn more about our people, our support of the community and our commitment to the environment.
Medibank's ongoing focus is on continuing to deliver for our customers and to progress our transformation into a health services company. We look forward to sharing our progress with you next year.
Elizabeth Alexander AM
Chairman
Craig Drummond
Chief Executive Officer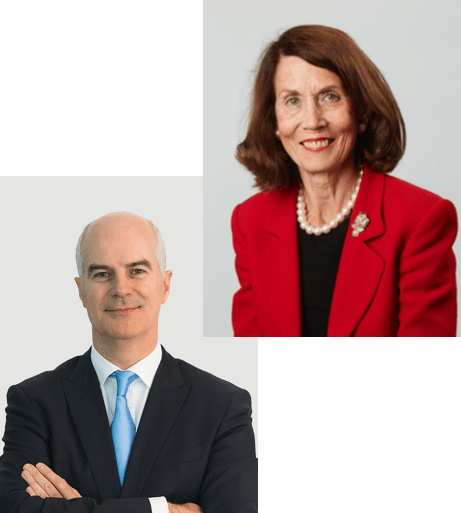 Business snapshot
Our purpose - Better Health for Better Lives
Ambition - To deliver Better Health for Better Lives we will:
Broaden the offering of our Medibank and ahm brands to deliver the best combination of products, services and advice for our customers.
Build a market leading health services offering for our customers.
Customers first
Our customers are at the centre of everything we do.
Show heart
We show compassion. We care for each other, our customers and our community.
Own it do it
We are accountable. We deliver on our promises, even when it's hard. We make it happen.
One team
We work better and smarter together. More we, less me.
Business snapshot
Some key facts and figures for the 2018 financial year
$5.3b
Benefits paid to customers
---
Excluding risk equalisation
$35m
Additional value committed to customers
---
Includes one-off loyalty bonus, 100% dental give back, Medibank Health Concierge and Medibank at Home
3.88%
---
Lowest average premium increase in 17 years and below industry average for a second year running
4,155
---
Number of employees including around 1,500 health professionals
*Headcount following acquisition of Home Support Services in August 2018
26.85%
---
Market share at 30 June 2018
84
---
Number of retail stores, including 20 in regional areas
500,000+
---
Surgical procedures supported
23.8m+
---
Extras services supported
1.3m+
---
Hospital admissions supported
1.8m
---
Interactions with the community via phone, chat and email through our telehealth services
13,000+
---
Customers supported through Medibank Health Concierge during the year
21,000+
---
People living with chronic conditions supported through CareComplete to date
Priority Program
---
Launched to recognise 10+ year Medibank customers
Mental health support
---
Psychology waiting periods removed to help customers needing urgent support
On current extras products as at 1 April 2018
Medibank at Home
---
Expanded to give customers choice over how and where they receive their care
85%
---
Employee engagement (up from 81%)
45%
---
Proportion of senior leaders who are women
$3.7m
---
Community investment
3.7m+
Number of customers
Financial summary
All data is presented on a statutory basis
cents per share
Total dividend for 2018 (interim and final) fully franked
Group net profit after tax
($m)
Health Insurance premium revenue
($m)
Health Insurance claims expense
(excluding risk equalisation)($m)
Composition of 2018 segment operating profit
(%)
| | | |
| --- | --- | --- |
| | Health Insurance | 91.9% |
| | Medibank Health | 8.1% |
Health Insurance operating profit
($m)
Health Insurance management expense ratio
(%)