Why Medibank?
We're one of Australia's leading health insurers and we're here to help you with all aspects of your health, from prevention to treatment.
Protect against the unexpected
Want peace of mind? We offer unlimited emergency ambulance services Australia-wide. ¹
24/7 Medibank Nurse
Need advice? Call us and speak to a Medibank Nurse about your health concerns whenever it suits you.
Trusted Health Partner
Medibank is one of Australia's leading private health insurer with over 3.7 million members.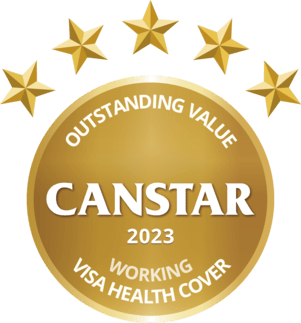 Medibank awarded Canstar's Outstanding Value' for Overseas Working Visa Cover 

We're proud to deliver outstanding value health insurance products designed to suit your needs. But don't just take our word for it.


Australian Healthcare system Explained

The private healthcare system (which Medibank is part of) complements the public healthcare system, or if you're not eligible for Medicare, it replaces it. Medibank provides private health insurance (also known as overseas health cover) to overseas students, visitors and workers to help with the cost of services provided in the private healthcare system. This includes emergency ambulance trips and a range of treatments in a private hospital.

If you need medical attention while you're in Australia and you don't have health cover it can be very expensive, whether you're treated in the public or the private healthcare system. 

Medicare is operated through the Australian government and gives Australian residents, and some international visitors, free or discounted health services through the public healthcare system. If you're from a country with a Reciprocal Health Care Agreement (RHCA) you might receive some Medicare benefits, also known as Reciprocal Medicare. 

Working or visiting Australia and ready to get started with health insurance?
Have questions?
Our team of experts are ready to help!
Enter your postcode to find your nearest store to have a face-to-face chat!
.
Fill in the form below or get in touch by calling our dedicated line 1300 110 086.
We are open on Sundays.
In providing your telephone number, you consent to Medibank contacting you about health insurance.
We'll have someone call you soon to help with any questions you have.
Or, check out our FAQs and guides to help get you started.