We're there when you need us, 24/7
We'll help you stay on top of your health
Are you a Medibank member?
Do you have questions regarding your cover? Request a callback today, to receive a cover check. 
Not a Medibank member?
Switching your health insurance to Medibank is easy. Simply join a cover that suits your needs and leave the paperwork to us.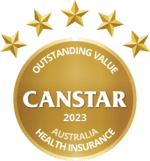 Canstar awarded 'Outstanding Value Insurance' 12 years in a row
We're proud to deliver outstanding value health insurance products designed to suit your needs. But don't just take our word for it.