The Medibank Feel Good Program is back up and running from Monday 14 March, with the exception of Aqua which will recommence when the South Bank Pools are once again open to the public. The series has also been extended until Saturday 9th April. Please note however the last date for Active Kids is 31 March. For full details, check out the updated program and location info here.
 
Refresh and recharge this spring with the Medibank Feel Good program, a series of free outdoor exercise classes held at Brisbane's South Bank Parklands from 31 January until 2 April 2022.

Whether you're after gentle, flowing exercise to soothe your mind and body after a busy day, or something high-energy to really get your heart racing, there's something for everyone. All classes are guided by fully qualified instructors from Goodlife Health Clubs.
To ensure public safety, several COVID Safe measures will be in place during the program.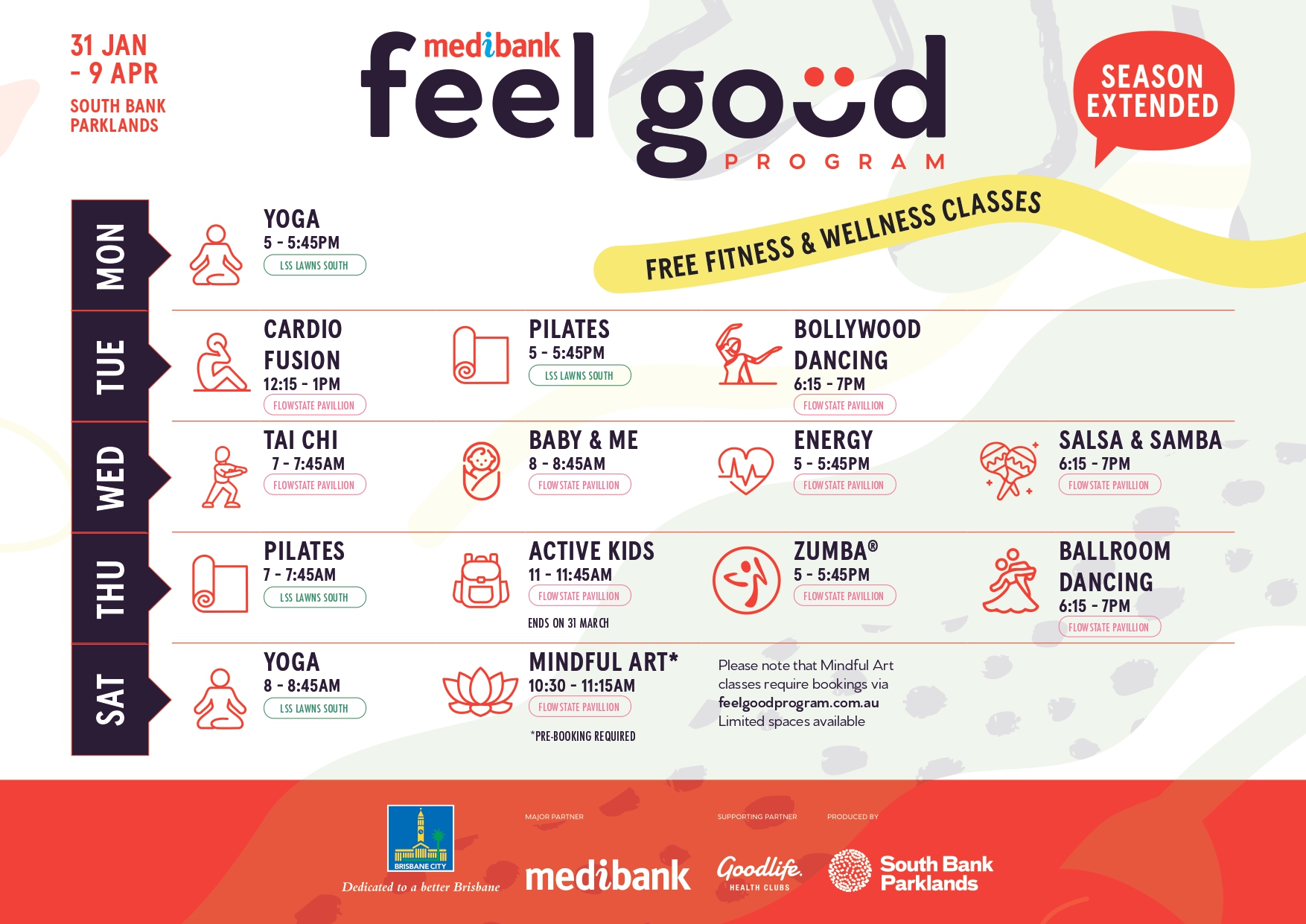 Pre-registration is not required for this series of the program however check-in is required via the Check In QLD app on arrival as per Queensland Health directives. For more details please click here.
Classes available
Yoga: Calm balance through stretches and poses to improve flexibility and posture. 
Cardio Fusion: A mixture of low impact cardio – yoga, pilates and strength. 
Pilates: Movement, breath, stretching and strengthening your body while improving flexibility. 

Bollywood Dancing: Learn the basic moves to this fun and energetic dance style which combines classical and western forms of dance. 

Tai Chi: Chinese tradition integrating the body and mind through a series of slow and controlled movements. 
Baby and Me: Baby and Me allows time to connect with bub and reconnect with yourself. 
Energy: Dial up your cardio routine with this high intensity, bodyweight workout. 

Salsa and Samba: A class designed to develop your swing, flexibility, fitness, and self-confidence! 

Active Kids: Encourage your child to be active and help them build healthy habits. 

Zumba©: Get moving to the beat while melting calories in this fun, social class.  

Ballroom Dancing: A specially curated ballroom routine suitable for all experience levels.  

Aqua: Splash down and tone up in the refreshing water of South Bank's Boat Pool.  

Mindful Art: Wellness through painting, drawing and craft.