Grow a Living Cubby-House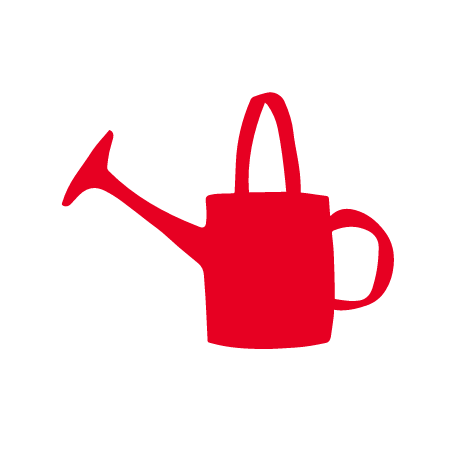 Not only can this living cubby house be a shady, private space for the kids to enjoy, it can also become a source of food for you and the pollinators.
Equipment
What to do
1. Take a walk in your garden area and choose a sunny spot to place your cubby.
2. Mark out the base of the conical tent in the chosen patch of earth. To do this, lay out string in the shape of a horseshoe. Your poles will go around the horseshoe, and the gap will be the 'door'. This is the time to decide how much space you want for the interior of the cubby and make sure that the entryway is big enough.
3. Using the string as a guide, dig a horseshoe-shaped trench in the ground to prepare the soil for planting. The trench should be approximately 15 cm wide and 15 cm deep.
4. Spread compost evenly through the trench, refill and level out the soil.
5. Position the poles, evenly spaced, along the circumference of the horseshoe. Push the bottom ends of the poles firmly into the ground and make sure they don't wobble.
6. Bend the top ends of the poles together and tie securely with twine to create a cone-shaped structure.
7. Use the pole framework and twine to create the trellis for the plants to climb up as they grow. To start, tie the twine to the top of one of the entryway poles. Working away from the entryway, make a taut line to the next pole, wrap it around that pole and pull it tightly to the next pole along. Repeat this process until you circle back to the entryway.
8. Continue the step above, working downwards, until the entire cubby (except for the entrance) is wrapped in rows of twine. The final row of twine should be close enough to the ground that the baby seedlings will be able to reach their climbing support, approximately 5–10 cm above the ground.
9. To plant the climbing beans or peas, follow the instructions on the seed packets. Plant the seeds in the horseshoe shape along the base of your structure, but remember not to plant seeds in the doorway of the cubby.
10. Keep your seeds well-watered.
11. As the plants grow, guide the seedlings up the poles and towards the twine until they attach themselves and begin to take over the structure.
12. In about 8 weeks, vines will cover the frame with leaves and flowers, and in 10 weeks you can start picking your beans!
13. Lay a rug or blanket inside the structure and enjoy a moment of solitude in this peaceful space.